The Injective Labs team made its way to xHack, an interoperability-focused hackathon hosted by Wormhole, where teams from various major blockchains came together to build, judge, and assist new developers within the space.
The Injective Labs team attended to view all the new upcoming projects and to assist developers building on Injective.
Overview
xHack was hosted by Wormhole, an interoperability protocol connecting prominent layer 1s together, expanding the reach of assets and data. As key partners, Injective Labs team members were invited to speak at a panel and also to hold open office hours for developers building on Injective.
During this time, Injective was not only able to create a better connection with Wormhole, but also able to strengthen its relationships with Go, Rust, and CosmWasm developers. In addition, Injective solidified some key relationships with major players in the crypto space. The team worked to provide technical support while also aiding them in the creation of highly performant dApps.
Injective provides builders with the best environment for creating finance-focused dApps. Injective is also the only blockchain in the interchain ecosystem to bring an interoperable CosmWasm-enabled environment that is able to plug into Wormhole. Furthermore, Injective is the only blockchain to give developers an unfair advantage with its word class financial primitives such as its on-chain order book and binary options which enables a diverse array of new opportunities not possible anywhere else.
Highlighted Projects
While the team encountered many new projects and builders, there were three new projects that caught the attention of the Injective Labs team.
1. xAccounts
Cross-chain accounts for interacting with non-IBC chains, xAccounts takes IBC further by allowing blockchains connected through Wormhole to connect to IBC-enabled chains. xAccounts allow anyone on Injective, for example, to execute actions on other blockchains connected via Wormhole.
2. PuniSwap
An order book spread protocol, PuniSwap enables users to leverage spreads on Injective's order book to earn fees. They do this by arbitraging spreads on Injective's on-chain order book, helping to create a more capital-efficient environment for traders across all Injective exchange dApps.
3. Bitcorn Exchange
Utilizing Injective's core exchange module, Bitcorn showcased a highly memeable decentralized commodity futures exchange that allowed users to speculate on products, such as corn.
Both xAccounts and Bitcorn received a grant from the Wormhole team to continue building out their products, expanding the Injective ecosystem. The Injective Labs team is also in direct contact with all projects that utilized Injective's technology during xHack.
xHack Panels
There were a number of panels throughout xHack that brought forth leaders within the industry, including Mo Shaikh of Aptos, Illia Polosukhin of Near, and of course, Eric Chen of Injective Labs.
Eric was invited to speak on a panel entitled, "Why Did You Start a Layer 1?" and was able to speak on how Injective was born out of a need to build the first sector-specific blockchain with tailored solutions for DeFi.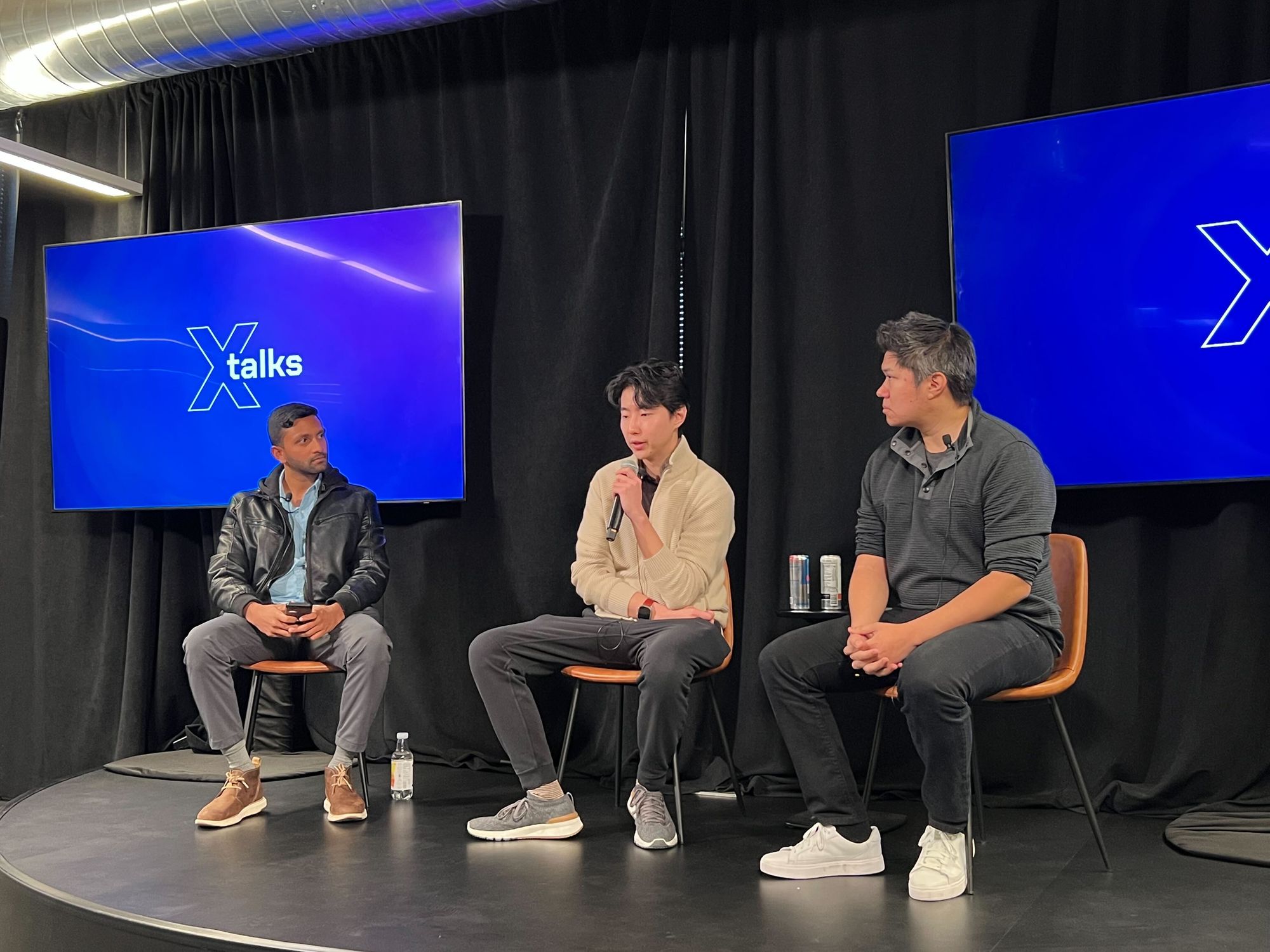 After the panel, Eric held scheduled office hours to speak directly with developers looking to build projects on Injective and to further polish their apps for demo day.
As these teams move forward with their new grants to build, the Injective Labs team is excited to integrate them further into the Injective ecosystem. As always, we encourage all interested builders to join us in our mission of bringing decentralized finance to the masses. You can start building today by taking a quick look at the Injective Docs or get in touch with the Injective community directly via Discord.
About Injective
Injective is a lightning fast interoperable layer one blockchain optimized for building the premier Web3 finance applications. Injective provides developers with powerful plug-and-play modules for creating unmatched dApps. INJ is the native asset that powers Injective and its rapidly growing ecosystem. Injective is incubated by Binance and is backed by prominent investors such as Jump Crypto, Pantera and Mark Cuban.
Website | Telegram | Discord | Blog | Twitter | Youtube | Facebook | LinkedIn | Reddit | Instagram | Orbit Newsletter