The First Osmosis (OSMO) Perpetual Futures Listing on Injective Pro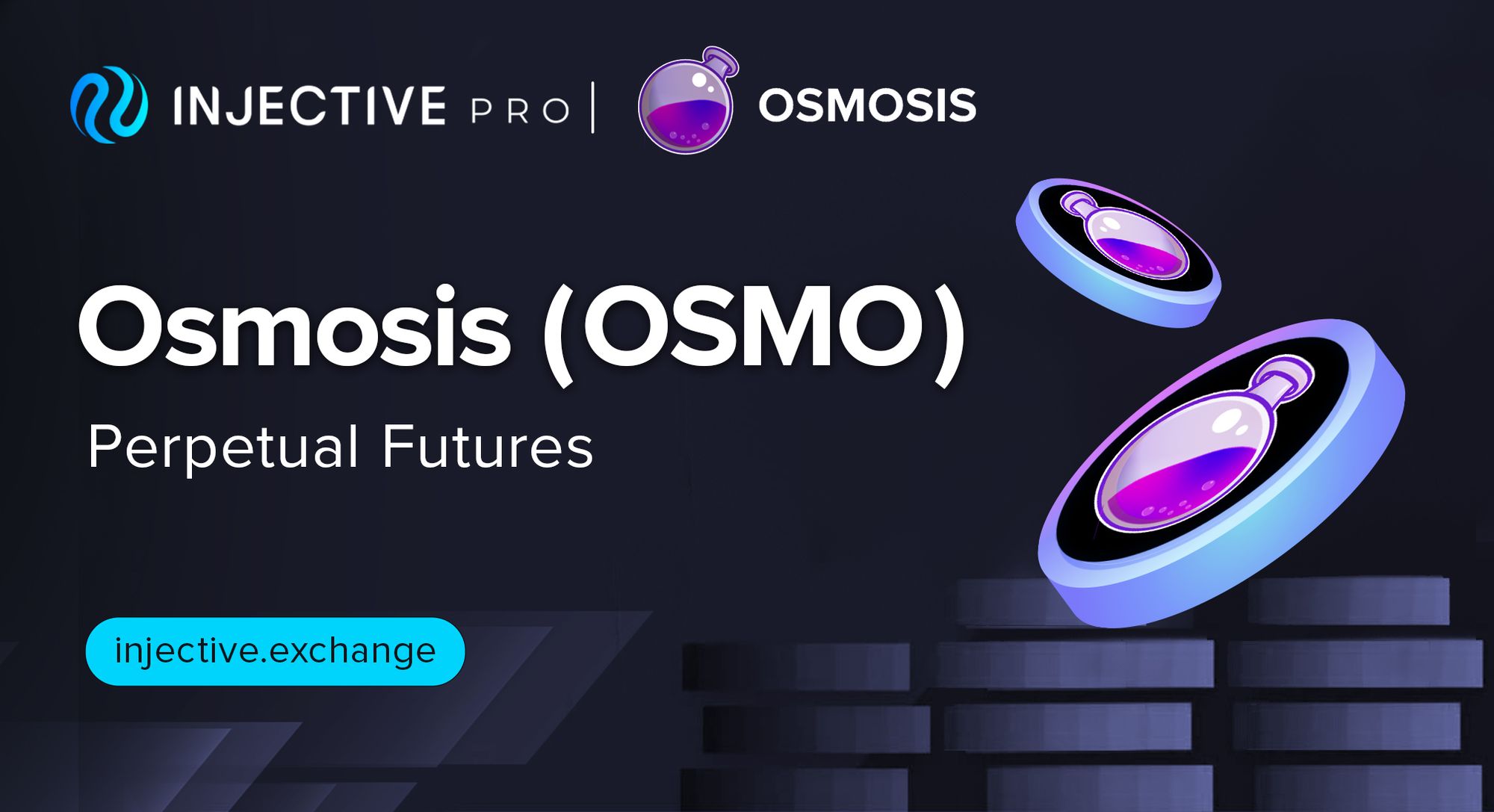 Injective Pro has listed the first ever perpetual futures for Osmosis (OSMO)!
You can now trade OSMO with up to 5X leverage on Injective Pro, the premier derivatives exchange DApp built on Injective.
The Injective Bridge supports a wide array of other IBC-enabled chains such as Osmosis, CosmosHub, and EVMOS. You can seamlessly transfer your assets by choosing the network accordingly. In addition, the Injective Bridge natively connects to Ethereum, allowing users to bring any ERC20 token into the broader Injective and Cosmos ecosystems.
Get started here: https://injective.exchange/derivatives/osmo-usdt-perp
Benefits of Trading OSMO Perpetuals on Injective
Long and short OSMO with 5X leverage
Decentralized orderbook for the Cosmos community (all of the pro functionalities of a CEX with none of the drawbacks)
Connect natively to Osmosis via the Injective Bridge
Lightning Fast Speeds
Earn trading fee discounts through VIP tiers
Zero Gas Fees
Zero frontrunning
Zero MEV
Earn rewards with every trade
Own part of the exchange and determine its future via governance
Interact with the world of Cosmos IBC and Ethereum
OSMO-USDT Perpetual Futures Market Details
Underlying market: OSMO
Quote asset: USDT
Minimum Price Tick size: 0.001 USDT
Minimum Quantity Tick size: 0.01 OSMO
Expire: Perpetual (no expiration)
Maximum leverage: 5x
Initial margin ratio: 19.5%
Maintenance margin requirement: 5.00%
Trade and earn multiplier: 1X maker pts; 2.2X taker pts
Trading hours: 24/7/365
New Cosmos Ecosystem Listing
Injective Pro has listed a number of Cosmos ecosystem projects, including EVMOS, ATOM, and XPRT. Moving forward, Injective Pro will continue to expand the markets available for users. All community members can propose to bring new assets to exchange DApps built on Injective using the Injective Governance portal. Ultimately, all INJ token holders own Injective so the community has the power to list assets on exchanges built on Injective.
Stay updated on all new listings by joining us on Discord, Twitter and Telegram!
Additional Resources
About Injective
Injective is a custom interoperable layer one protocol for building powerful exchange, DeFi, derivatives & Web3 applications. Injective was created using the Cosmos SDK and is able to achieve instant transaction finality while sustaining lightning fast speeds. INJ is the native deflationary scarce asset that powers the Injective Protocol and its rapidly growing ecosystem. Injective is incubated by Binance and is backed by Pantera Capital.
Website | Telegram | Discord | Blog | Twitter | Learn | Youtube | Facebook | LinkedIn | Reddit | Instagram | Weibo | Orbit Newsletter