March Update: Injective Pro V2 Launch, Apecoin Listing, and Binance Blockchain Week!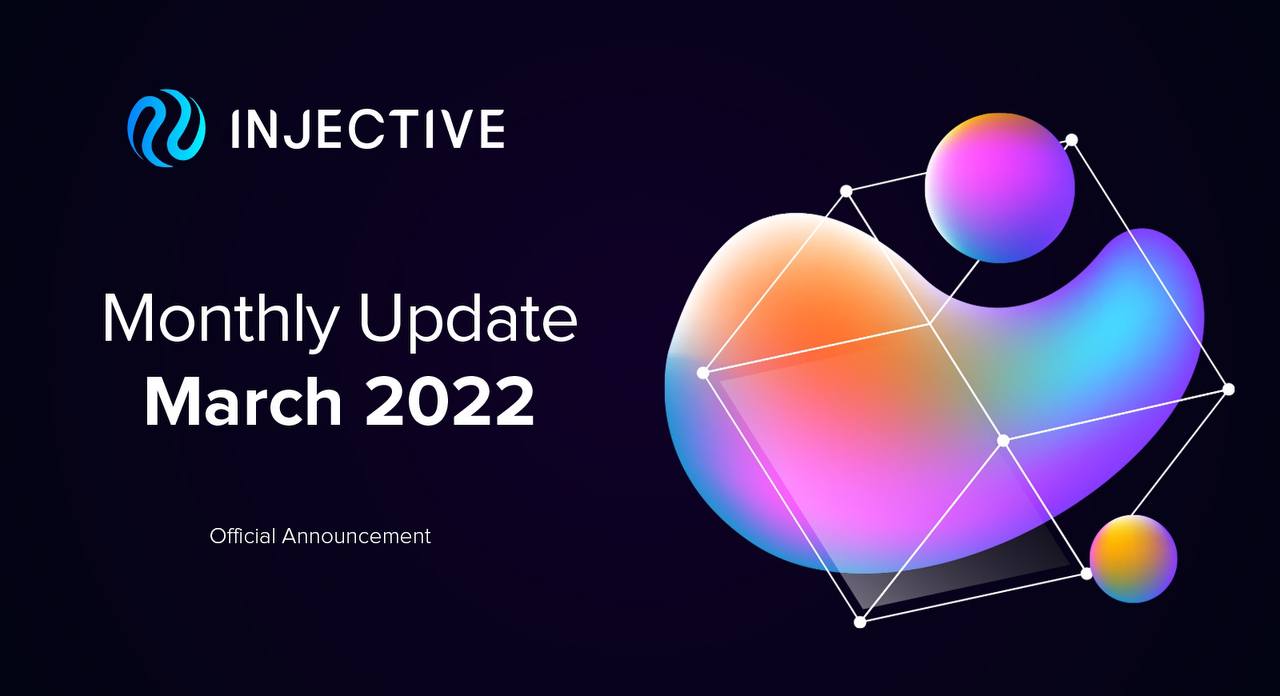 Hey nINJas!
While the Web3 movement has been ​​overhauling the internet by moving businesses and services onto decentralized technologies, Injective has been expanding its global footprint and carrying forth the most innovative Web3 products.
From launching a brand new Injective Pro V2, to listing Apecoin and speaking at some of the most celebrated crypto events around the world, the community has delivered a great deal this month.
Below you will find some of the major highlights from the past month.
1. Performance Indicators
Total monthly trading volume on the Injective Exchange has increased from last month, and reached its peak on March 16 with $74 million daily trading volume.
Check out info.injective.exchange for more stats.
2. Injective Pro: V2 Launch & New Listings
The Injective Pro V2 has launched, which has brought the best features from centralized exchanges while retaining a dynamic decentralized backend. Some of the major upgrades include:
Revamped homepage to display trending and new markets
Intuitive portfolio page with an overview of balance and transfer modals
Comprehensive activity page to quickly find all past transaction details
Account dashboard to view your VIP Tier
Along with the launch, Injective nINJas also launched ApeCoin ($APE) spot market along with a deposit campaign that gives users the opportunity to win an original BAYC Kennel NFT!
3. Integrations & Partnerships
KYVE has successfully integrated with Injective to bring seamless storage and access for fully decentralized on-chain Injective Protocol data. Data from 40M+ Injective transactions to date alongside any new data will be stored on Arweave moving forward.
Injective is also collaborating with Axelar to bring new EVM assets into Injective DApps through the cross-chain Injective Bridge.
Injective is integrated with the Terra bridge. Users can seamlessly transfer $LUNA and $UST to Injective, enabling new forms of interoperability between the Terra and Injective blockchains.
4. Global Footprints
The annual Binance Blockchain Week gathers the brightest and most influential minds in the blockchain ecosystem. This year in Dubai, Injective Labs' co-founder and CEO, Eric Chen, spoke on the panel with founders from Reef, 1inch, and Ankr on the future of DeFi 2.0 at the conference.
Injective also showed up at the Avalanche Summit in Barcelona! Eric gave a talk on how Injective is building the premier cross-chain DeFi hub for the entire crypto ecosystem.
5. Community
🇹🇷 Injective hosted an AMA session with Binance Turkish community.
💻 Catch Injective Labs CEO Eric on an interview with Cointelegraph discussing how DeFi is gearing up to service millions of new users.
🔢 The Injective Pro exchange has been added to CoinMarketCap, Coingecko, and TokenInsight. Anyone can track Injective Pro markets and stats through these platforms.
💰 Exswap announced the upcoming community aridrops to Injective Protocol users.
📚 Injective was featured on Messari Hub with a deep dive into its technical architecture.
6. Tweet of the Month
https://twitter.com/ericinjective/status/1504275871540158474
7. We're Hiring
Want to build the future of Web3? Come join our team at Injective Labs to pioneer the new age of finance! We are hiring across all roles. Check out our careers page here: Link
There's more to come in April so stay tuned and join the Injective community on Discord, Twitter and Telegram.
About Injective
Injective is a custom interoperable layer one protocol for building powerful exchange, DeFi, derivatives & Web3 applications. Injective was created using the Cosmos SDK and is able to achieve instant transaction finality while sustaining lightning fast speeds. INJ is the native deflationary scarce asset that powers the Injective Protocol and its rapidly growing ecosystem. Injective is incubated by Binance and is backed by Pantera Capital.
Website | Telegram | Discord | Blog | Twitter | Learn | Youtube | Facebook | LinkedIn | Reddit | Instagram | Weibo | Orbit Newsletter