Injective is poised to launch Tesla futures trading on the Solstice Pro Testnet! This marks the first time in history that Tesla futures can be traded in an entirely decentralized setting.
Background
Tesla is a rapidly growing Electric Vehicle company created by Elon Musk who recently became the wealthiest man on Earth.
The Tesla stock has also had a blockbuster year throughout 2020, becoming one of the best performing large cap stocks last year in the traditional markets. Tesla is by far the most traded stock by value on Wall Street, with $18 billion worth of its shares exchanged on average in each session over the past 12 months, easily beating Apple, in second place with average daily trades of $14 billion.
It is for this retail interest and high trading volumes that Tesla has been chosen by the community to be the first futures market on Injective.
The Details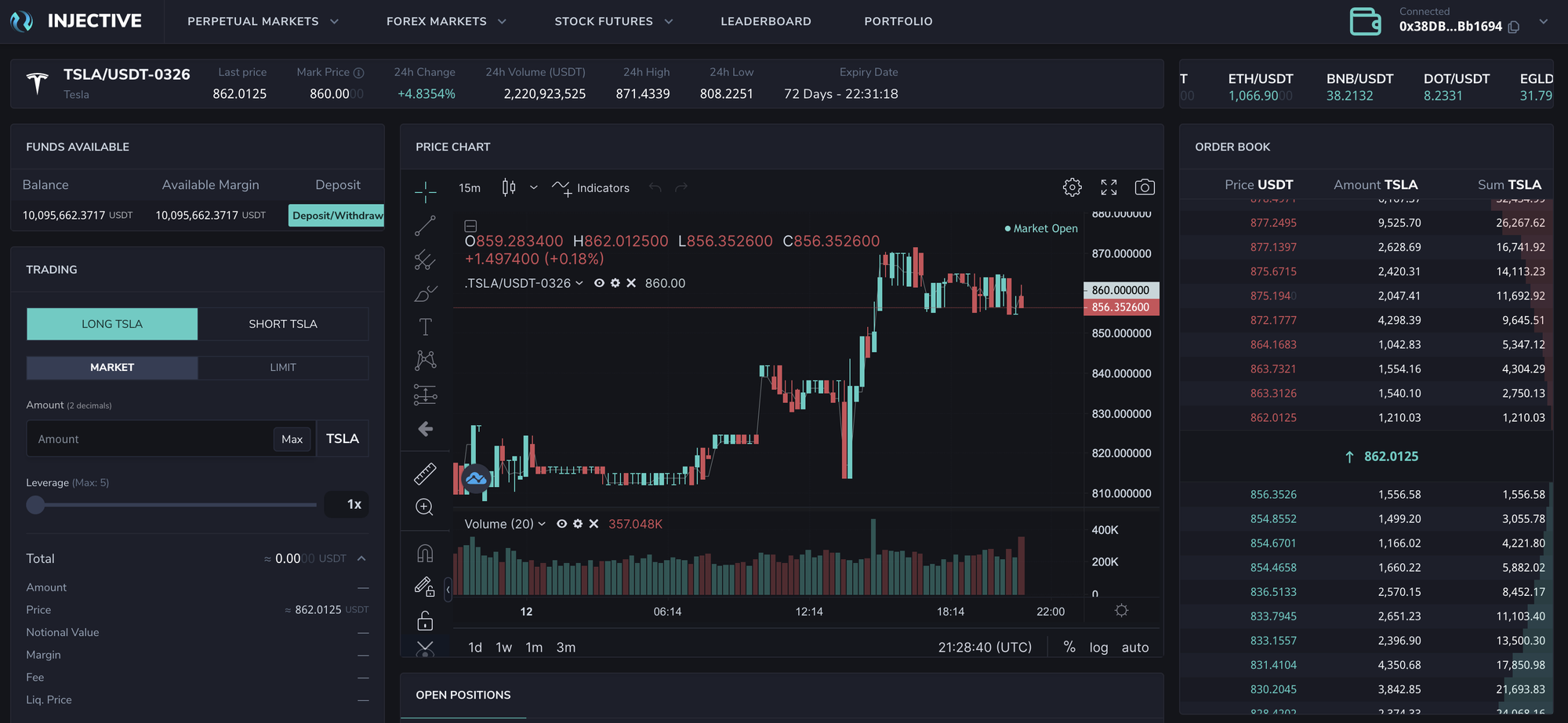 The first Tesla future on Injective will be live starting now on the Solstice Pro Testnet.
Expiration Date: March 26, 2021
Ticker: TSLA/USDT-0326
Over the coming weeks a number of new stock futures will be added on Injective so stay tuned!
About Injective
Injective is a custom interoperable layer one protocol for building powerful exchange, DeFi, derivatives & Web3 applications. Injective was created using the Cosmos SDK and is able to achieve instant transaction finality while sustaining lightning fast speeds. INJ is the native deflationary scarce asset that powers the Injective Protocol and its rapidly growing ecosystem. Injective is incubated by Binance and is backed by Pantera Capital.
Website | Telegram | Discord | Blog | Twitter | Learn | Youtube | Facebook | LinkedIn | Reddit | Instagram | Weibo | Orbit Newsletter