The long-awaited integration with Wormhole is now complete, bringing the most prominent L1 and L2 blockchain networks to Injective!
With this integration, Injective will have one of the highest number of cross-chain connections in the entire industry. This also marks the first time that assets such as Solana, Klaytn, Algorand and Aptos can enter the Cosmos IBC ecosystem using Injective.
What is Wormhole?
Wormhole is a generic message-passing protocol that connects high-value blockchains. In doing so, Wormhole enables the transfer of value and information between ecosystems.
Wormhole currently provides access to some of the most popular blockchains today such as Solana, Aptos, Avalanche, Algorand, BNB Chain, Fantom, Oasis and Polygon. Wormhole also supports L2 networks such as Arbitrum. In addition, Wormhole supports a number of EVM environments such as Aurora which provides access to Near Protocol.
How Will Wormhole Work on Injective?
The Wormhole integration will allow Injective users to bridge assets from connected Wormhole L1 and L2 networks into the Injective ecosystem. Highly complex cross-chain transfers can now be accomplished via a simple click.

Users will be able to bridge assets through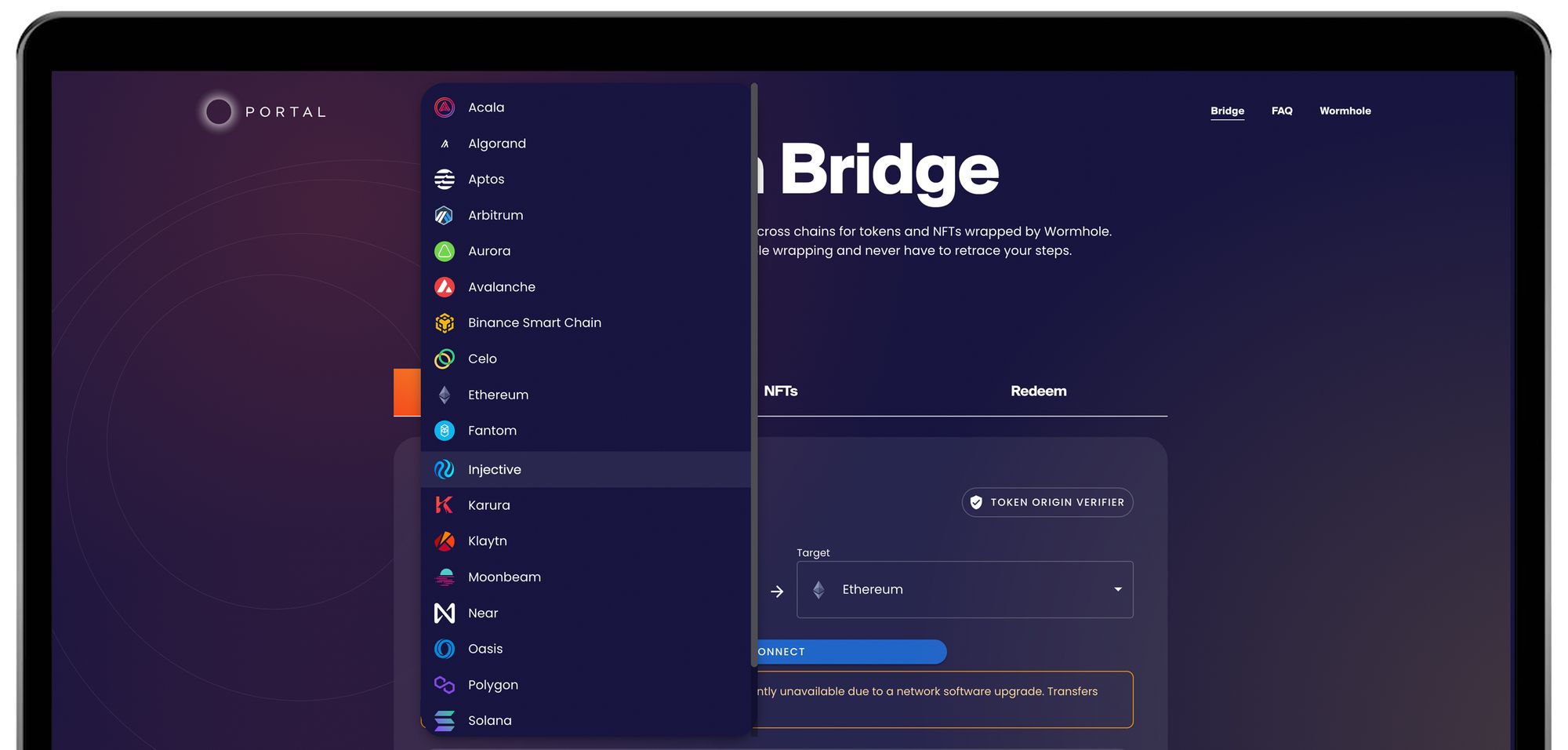 On Portal Bridge (the bridging platform for Wormhole) users can select one of the chains within Wormhole's network to transfer assets directly to their Injective Wallet.
*Injective Hub will begin by showcasing only Solana from Wormhole's network. To bridge assets from any of Wormhole's other networks, please visit Portal Bridge.
This new integration marks a major milestone for Injective's ecosystem, opening up the Injective community to a multitude of networks that were previously inaccessible. The integration also allows novel assets and data to be used directly throughout dApps built on Injective. Injective will serve as a fundamental gateway for assets to travel into the broader IBC ecosystem as well, further bolstering Injective's position as a core infrastructure layer optimized for interoperable finance.

About Injective
Injective is a lightning fast interoperable layer one blockchain optimized for building the premier Web3 finance applications. Injective provides developers with powerful plug-and-play modules for creating unmatched dApps. INJ is the native asset that powers Injective and its rapidly growing ecosystem. Injective is incubated by Binance and is backed by prominent investors such as Jump Crypto, Pantera and Mark Cuban.
Website | Telegram | Discord | Blog | Twitter | Youtube | Facebook | LinkedIn | Reddit | Instagram | Orbit Newsletter
About Wormhole
The Wormhole Network is a generic message-passing protocol that connects high-value blockchains and allows applications leveraging the messaging layer to facilitate interoperability between ecosystems. Secured by 19 guardians, developers are able to leverage the protocol to send arbitrary data cross-chain including tokens, NFTs, oracle data, governance decisions and more.