Today marks the public release of Solstice V2, which is a landmark milestone for the Injective community.
Public Solstice V2 Testnet: Link
Solstice V2 Walkthrough: Link

Background
On November 30, 2020, the early access version of the Solstice testnet was released.
Within one week the community managed to compile feedback and release Solstice V2, which presents an unrivaled trading experience for everyone. V2 has managed to surpass every exchange in the market today, seamlessly integrating the best features from centralized exchanges while retaining a dynamic decentralized backend.
This launch was met with tremendous demand with user caps being reached under one hour on a daily basis. Tech media titans TechCrunch and CoinTelegraph covered the release.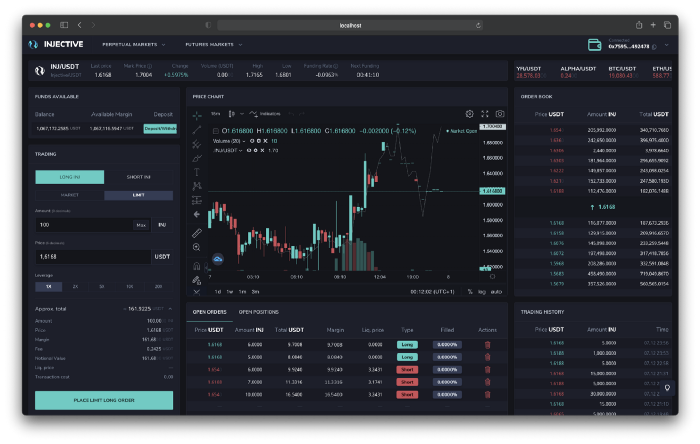 Some Initial Statistics from 10 days of the early access period
Number of Trades: 394,792
Volume: $194,174,896,615
The trader with the Highest ROI: 1,029.2%
It should be noted that these statistics were generated during an early access period wherein the number of users with access to the platform were intentionally limited. This public release will likely eclipse these stats and aid in showcasing the community's dynamic throughput capabilities.
Public Release
This launch marks the first time that Injective has accomplished a full public release.
Over the weeks a number of significant changes have been deployed in order to create a heightened trading experience for everyone. This includes infrastructure and performance optimizations that have led to the creation of a much more robust platform.
In addition, the frontend UI changes were further upgraded to create a much more intuitive experience. A number of other enhancements will be introduced before the start of the upcoming trading competition.
Final Thoughts
The Solstice V2 public release marks the culmination of the community's unparalleled ability to both execute and drive meaningful upgrades based on shared feedback. This milestone serves as one giant step in the journey to building the first fully decentralized derivatives exchange.
About Injective
Injective is a lightning fast interoperable layer one blockchain optimized for building the premier Web3 finance applications. Injective provides developers with powerful plug-and-play modules for creating unmatched dApps. INJ is the native asset that powers Injective and its rapidly growing ecosystem. Injective is incubated by Binance and is backed by prominent investors such as Jump Crypto, Pantera and Mark Cuban.
Website | Telegram | Discord | Blog | Twitter | Youtube | Facebook | LinkedIn | Reddit | Instagram | Orbit Newsletter