March was a busy month for Injective, with significant updates occurring both on-chain and within the ecosystem.
During the past month, Injective not only grew its network through ETH Denver, but it also expanded to 10+ regional communities through the Ninja Ambassador Program. This marks only the beginning of the Injective community's growth worldwide.
For a recap of March, check out this highlight reel 👇
Highlighted News
Injective and Eclipse Launch Cascade: First-Ever Interchain Solana SVM Rollup
Injective and Eclipse, a customizable rollup provider, released the first ever Solana SVM rollup for the IBC ecosystem. The integration will bring the Solana Sealevel Virtual Machine (SVM) into the broader Cosmos world, enabling Solana developers to rapidly deploy their Solana contracts and dApps onto Injective.
Cascade is now live on the Injective testnet with a migration to mainnet planned for the near future. Builders can visit the official Cascade developer docs to get started now.
Astroport Mainnet on Injective & ASTRO Rewards Live on LP Pools
The Astroport mainnet officially went live in March, bringing the leading AMM to the Injective ecosystem! Within a few hours of Astroport going live, its TVL reached $2 million, bringing a new era for Injective.
Liquidity providers (LPs) can start to receive ASTRO rewards through four pools, including ASTRO-USDT, INJ-USDT, ATOM-USDT and USDC-USDT.
You can find a step-by-step guide on how to start earning yield via Astroport here.
Injective Integrates Pyth to Launch FX Testnet Markets
Injective became the first IBC chain to integrate Pyth with the help of Wormhole, bringing robust institutional data into the ecosystem. Now anyone can access not only crypto, but also real world assets on-chain at the click of a button.
ETH Denver 2023: Injective Recap
Early March, the Injective Labs team attended ETH Denver 2023 to participate in meetings and social events with over 30,000 attendees. The team was able to meet with valuable partners to explore new integrations and collaborations, as well as to guide builders to join the upcoming Injective global hackathon.
During the event, Eric was able to give a talk on "How to build next-generation DeFi Apps on Injective", which was a small precursor to what's coming up during the Injective Hackathon.
To view the entire panel, take a look at the video below.
Eric also spoke at multiple side events, including a large Cosmos meetup, in which he gave a talk on how Injective built the most scalable infrastructure stack for finance. He also joined a panel discussion to discuss how to attract and keep developers in your ecosystems during the Interop Summit, hosted by Axelar.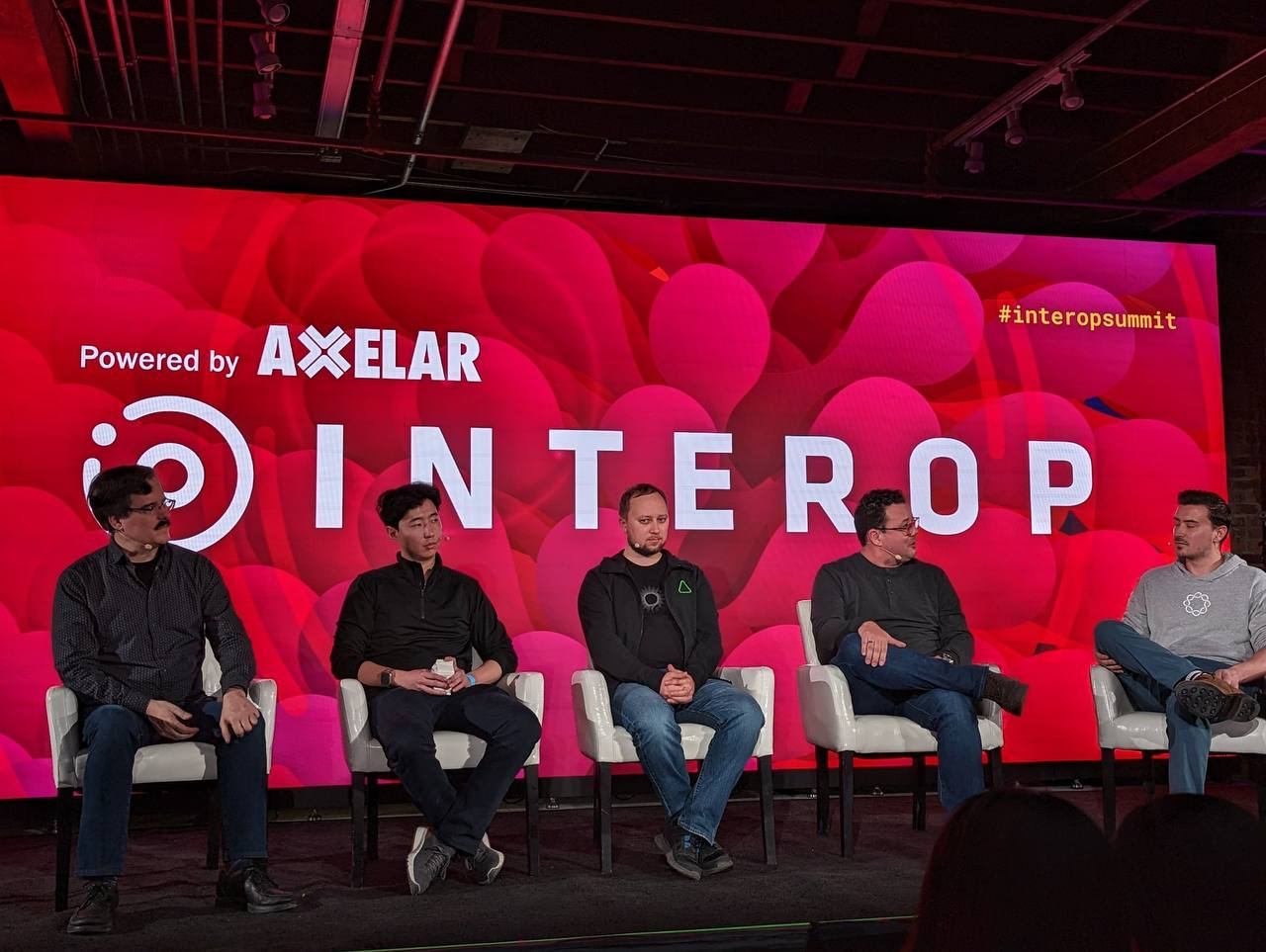 Finally, you couldn't attend ETH Denver without seeing some Injective billboards! As Injective continues to expand and grow, it's presence is more pronounced and this year, Injective stood out from the crowd at ETH Denver.
Injective Global Virtual Hackathon - April 10th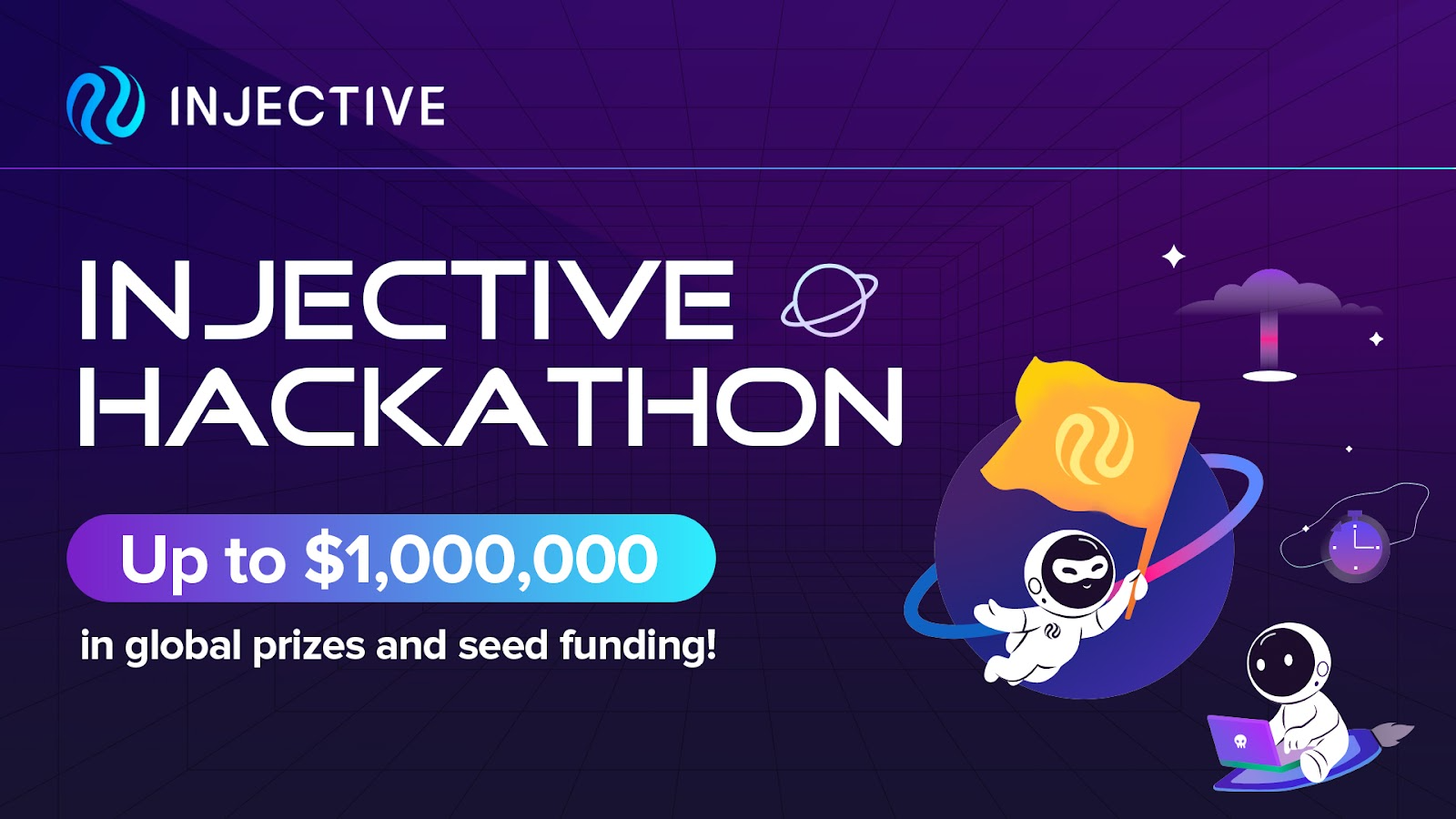 The first-ever Injective Global Virtual Hackathon will kickstart on April 10th, with up to $1M in prizes and seed funding to further support the brightest Web3 builders.
The hackathon will consist of four discrete phases aimed at guiding you from idea to product release.
If you haven't joined yet please register here today and join the Injective Discord. You will be assigned a Hacker role, which will give you access to private hackathon channels to meet others or find teammates!
Injective Ecosystem Updates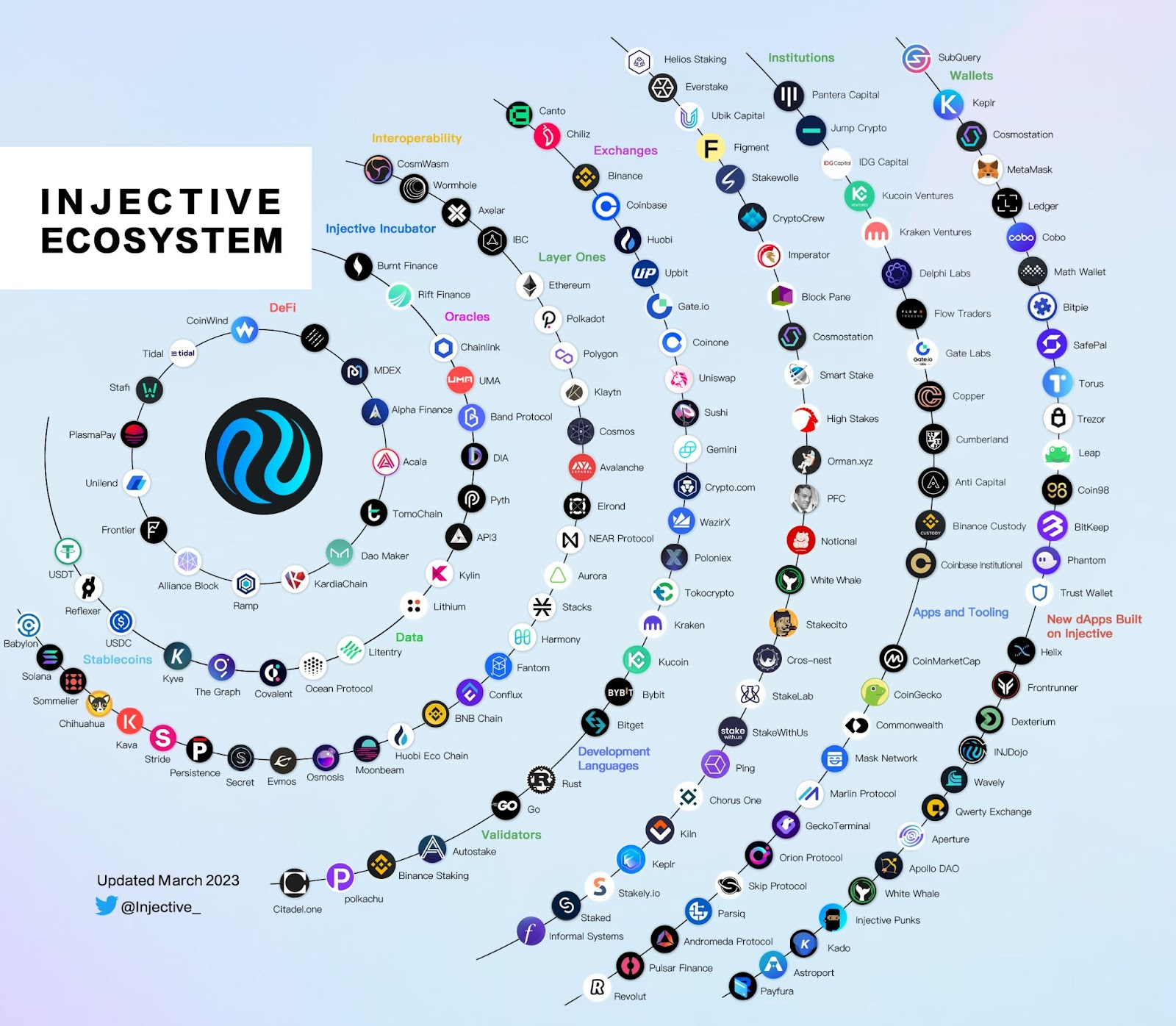 Helix: Unified Wallet & Asset Listing
The Injective mainnet upgrade in March brought an enhanced trading experience to Helix by merging all subaccounts into one unified wallet, allowing traders to seamlessly onboard to Helix.
In addition to UX updates, Helix became the first orderbook DEX within the Cosmos ecosystem to list Arbitrum (ARB) spot market, right after Arbitrum token launched to the entire Web3 community.
Helix also launched Solana (SOL) perpetuals, and on-chain FX pairs such as Euro (EUR), Yen (JPY), and Pound (GBP) perpetuals on testnet, thanks to Injective's recent integration with Pyth.
March was an exciting month for Helix, with truly decentralized RWAs (Real World Assets) powered by Injective starting to take shape!
Get started on Helix:
Frontrunner iOS App Is Live
Frontrunner, the premier sports predictions dApp, is now on iOS! Last month, Frontrunner launched its Android mobile app. Now, both iOS and Android users can directly use Frontrunner from their phones.
Download the app:
White Whale: Airdrop to Injective Stakers
White Whale, the interchain liquidity protocol deployed on Injective, announced its $WHALE airdrop to the Injective stakers. White Whale stakers on Injective and Ninja Pass holders both received double the airdrop!
Tutorial:
Puggo Arrived in the Injective Universe
Puggo ($PUG), the first dog token on Injective, successfully launched in March, with the PUG/USDT spot market proposal passing shortly thereafter. Stay tuned for when PUG will be available to begin trading on Injective exchange dApps!
To participate:
Becole Launched on Injective
Another brand new, user-friendly, decentralized exchange, Becole, launched on Injective! Be sure to check it out at https://becole.com/.
Every week, Injective will automatically burn 60% of fees from all exchange dApps. The burn auction is fully community-led and helps accrue value for the entire Injective ecosystem. More exchange dApps built on Injective will lead to more fees accrued and burned!
Injective Chain Updates
Mainnet Upgrade
Injective completed its mainnet upgrade v1.10, which was one of its largest upgrades to date. There were over 10 new updates and some of the key items included:
New smart contract capabilities
A revamped user flow
Automated transaction enhancements
Integrations with Injective
In March, Injective continued to broaden its reach with multiple partnerships, achieving higher levels of interoperability and reaching mass adoption.
New Validators Join Injective
Along with the growth of INJ stakers, several new validators onboarded to Injective this month. The new additions include EcoStake, Nysa, PostHuman, 01node, WhisperNode, Terran One, and digital asset and blockchain leader Galaxy Digital.
Users can delegate tokens and check each validator's status on the Injective Hub.
Staking INJ on Injective Hub will help secure Injective's PoS network and is a great way to potentially earn APY and new rewards, including exclusive airdrops! You can find a comprehensive INJ staking guide here to get started.
In addition to new validators joining Injective, a current validator, MatrixedLink, now supports auto-compounding to allow users to re-stake their rewards automatically for extra APY.
Injective Explorer Update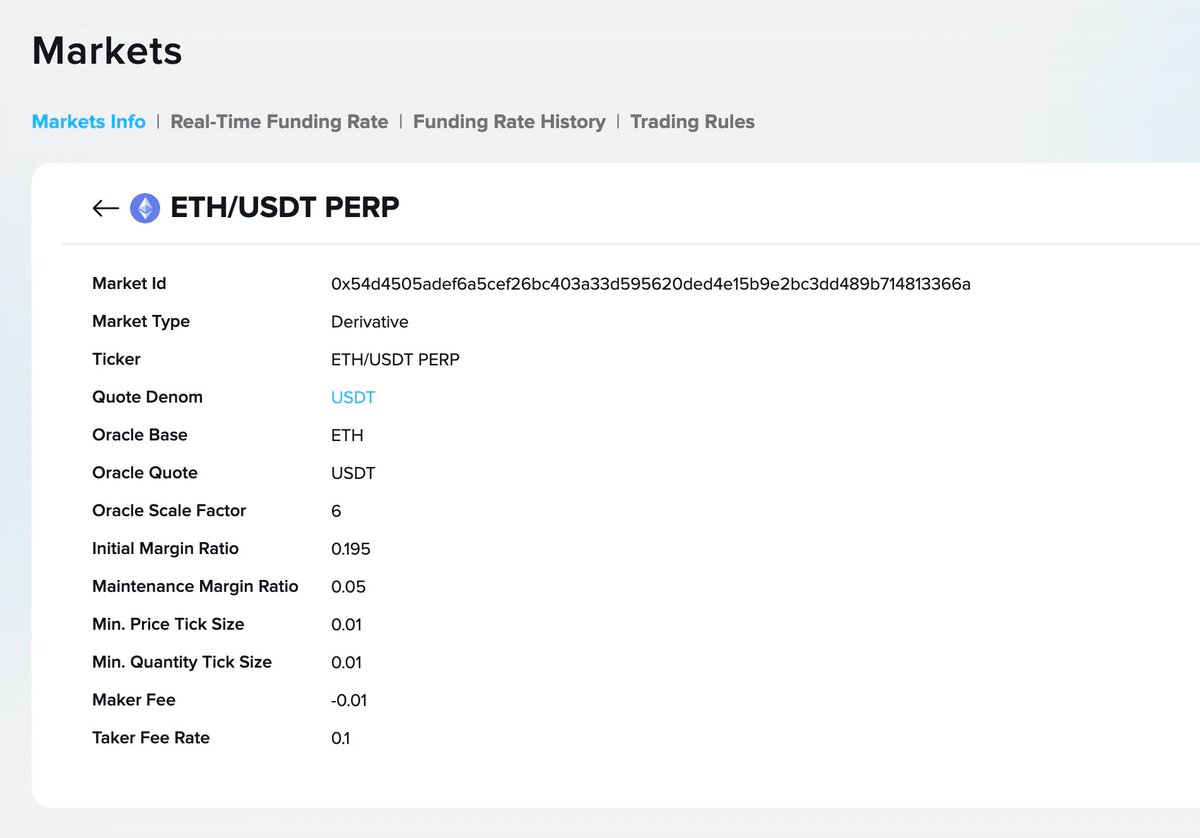 The Injective Explorer has been upgraded to include details for all markets on exchange dApps built on Injective. Simply click into any active market to view tick sizes, maker rebates and more: https://explorer.injective.network/markets/
March Injective Stats
Injective Community Updates
Ninja Ambassadors Update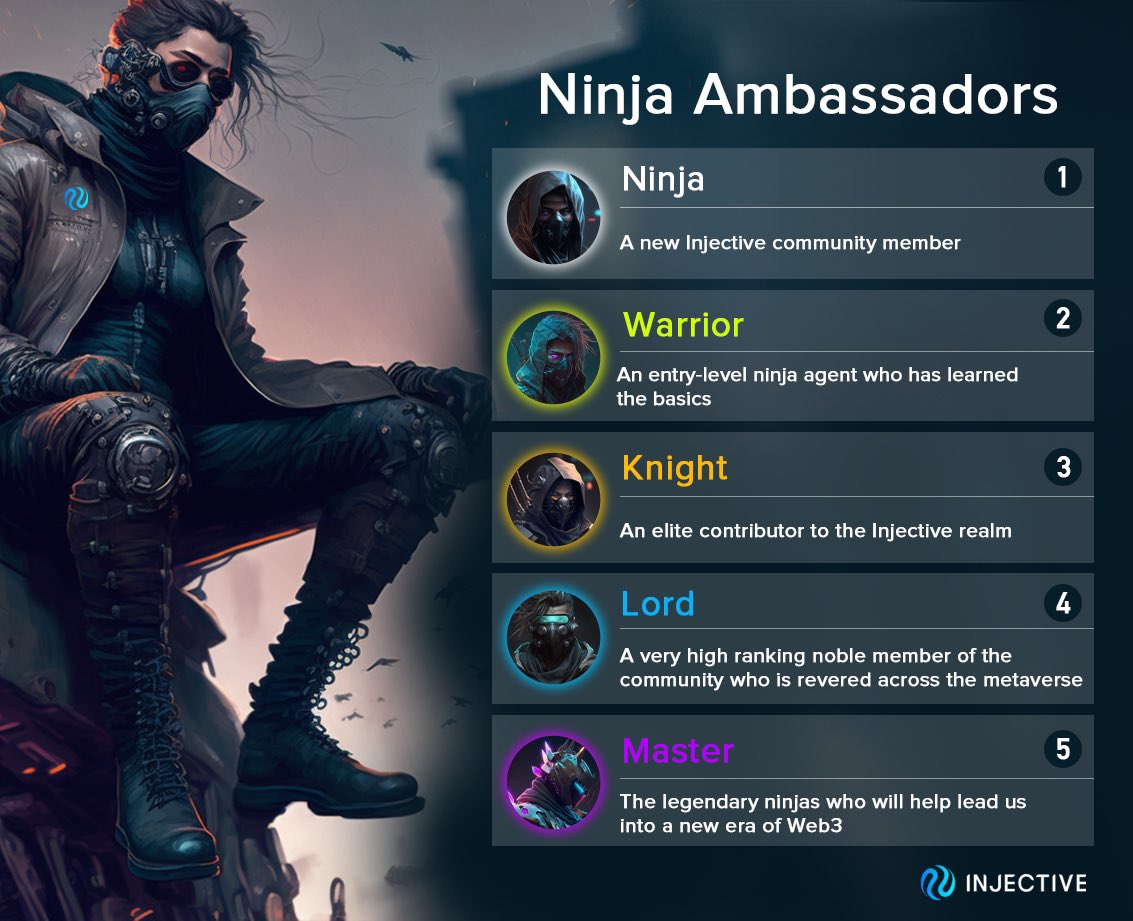 Since the launch of the Ninja Masters Ambassador Program in late February, the program has been absolutely wild with over 10,000 ninjas joined with members leveling up daily.
The Injective community has expanded around the world with over 10 regional communities so far, including Chinese, Korean, Vietnamese, Indonesian, Spanish, Turkish, Portuguese, Italian, Russian, Ukrainian, Polish, Greek, and German communities!
Join Discord now to level up and unlock new benefits and perks if you haven't done that already! Please be sure to read the complete program details here. The guide will serve as a handy tool for you and provides an overview of all program components.
Twitter Spaces & Interviews
The Injective Labs team joined a couple of Twitter Spaces during the month of March to discuss the latest contributions to Injective, speak to ecosystem partners and provide commentary on the current industry.
Here is a roundup of the shows and Twitter Spaces from March:
Buzzworthy Community News:
🥳 Keep track of future updates on the Injective Discord, Twitter and Telegram.
About Injective
Injective is a lightning fast interoperable layer one blockchain optimized for building the premier Web3 finance applications. Injective provides developers with powerful plug-and-play modules for creating unmatched dApps. INJ is the native asset that powers Injective and its rapidly growing ecosystem. Injective is incubated by Binance and is backed by prominent investors such as Jump Crypto, Pantera and Mark Cuban.
Website | Telegram | Discord | Blog | Twitter | Youtube | Facebook | LinkedIn | Reddit | Instagram | Orbit Newsletter