Today marks the exciting release of Injective Solstice V2.
This upgrade involves a number of major UI and backend changes that lead to a far superior trading experience for everyone.
Background on Solstice V1
After working on the initial public release for tireless months, Injective contributors finally released the Solstice Testnet on November 30th. This was immediately met with unbelievable community enthusiasm as well as universal acclaim. The story was covered by major publications globally such as the likes of TechCrunch.
Over the past few days, the Testnet waitlist has grown exponentially with users vying to gain early access on a daily basis. Perhaps most surprisingly the daily testnet cap limits were met in under an hour every single day since the inception of Solstice. The interest to gain early access only seemed to surge further after the addition of gold synthetic commodities on Injective, which was recently covered by CoinTelegraph.
This past week has also opened up a window of feedback directly within the community. A live Discord channel was opened, allowing anyone to come and speak directly with community developers about any issue or bugs they were facing. Metrics were integrated for every request made on the UI, and for any error that users may have encountered — allowing upgrades and resolutions to be made with ease.
However, the Injective community decided to go above and beyond. Before releasing Solstice, community members had already begun discussions of a major UI revamp. The plan was to pool feedback during the V1 phase and eventually to release upgrades early next year. But the excitement from new users propelled the existing community to work essentially 24/7 to roll out the changes as soon as possible.
The results have far exceeded all of the initial goals and made Solstice V2 possible, which will provide an unparalleled trading experience for everyone. V2 will seamlessly integrate the best features from centralized exchanges while retaining a dynamic decentralized backend.
Solstice V2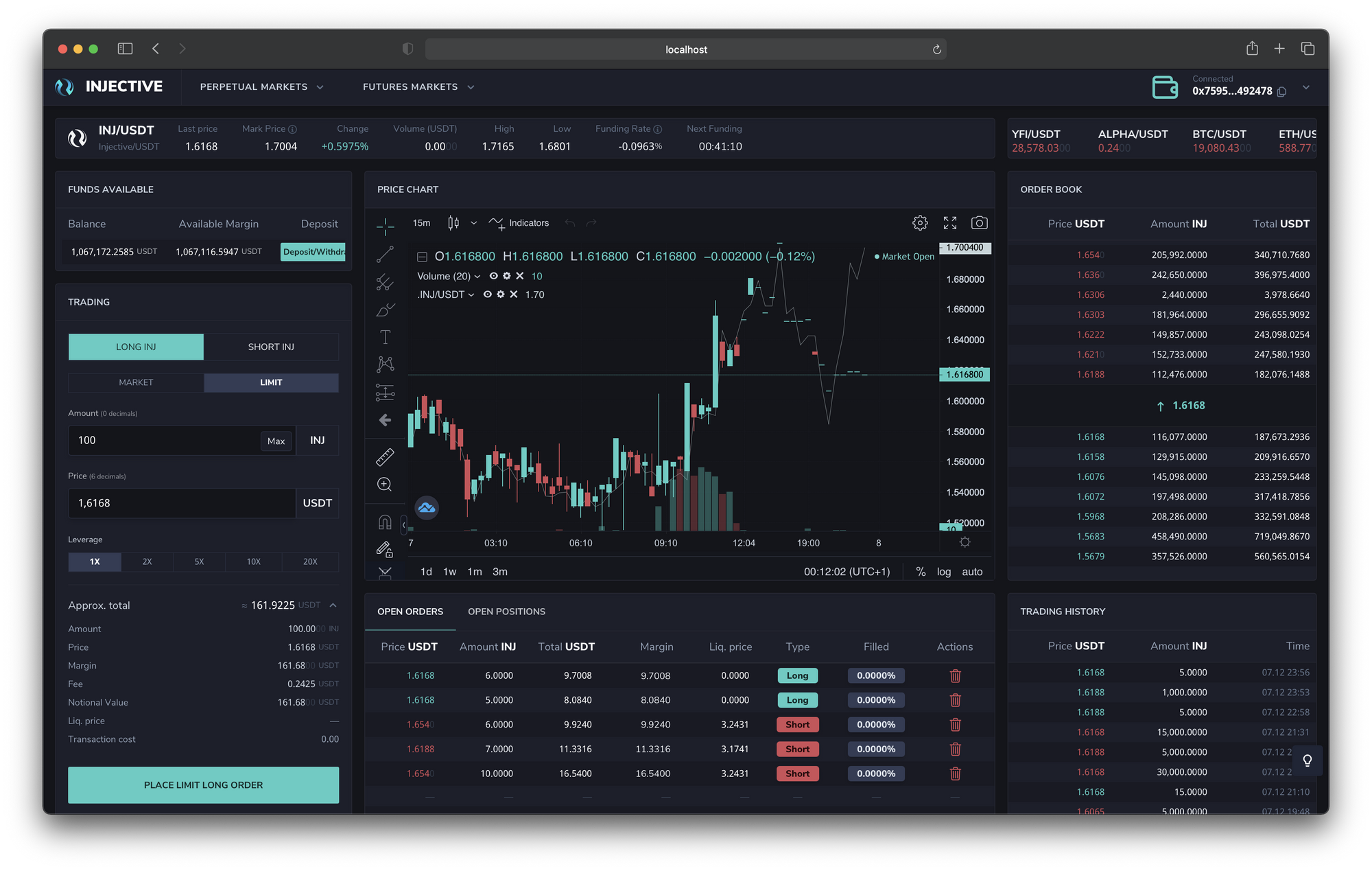 Here is a high-level overview of some of the most salient changes that encompass the V2 release. All are encouraged to try trading on Solstice V2 in order to truly experience all of the changes.
Color Palette Revamp
The colors on the exchange have been revamped entirely to offer a much more stylish look and feel. Darker undertones coupled with vibrant colors lead to a heightened visual appeal while increasing practical applications for both novice and institutional traders.
Typeface and Numerals
The fonts across the DEX were altered to create a more elegant look with better overall visibility. Numbers were updated to a monospace font to increase readability as well.
Enhanced Home Screen Market Details
Further market details on the home screen are now offered, which include both percent change and volume. This can help traders to quickly attain a market snapshot.
Tooltips Guidance

Solstice V2 now includes tooltips throughout the DEX which provide helpful explanations for new traders. The tooltips are toggled simply by hovering over the "?" icons on the DEX.
Dynamic Mobile Responsiveness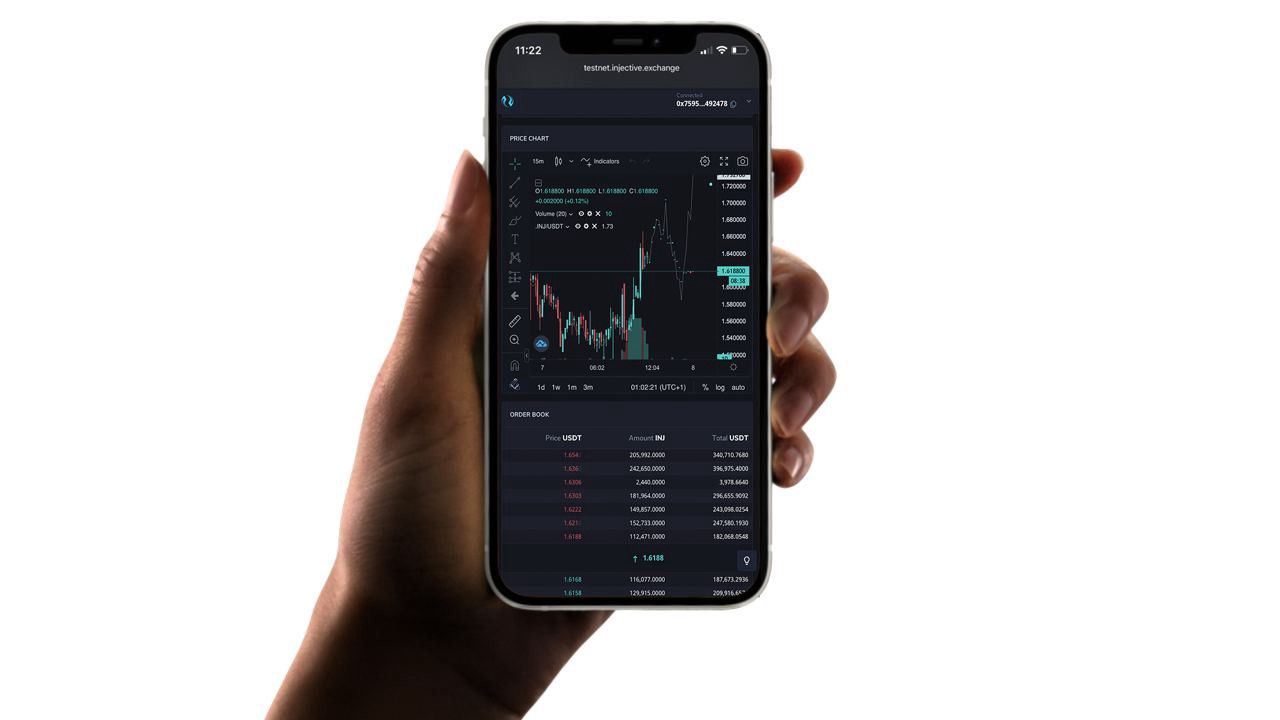 The UI is now fully responsive across any and all platforms. You can now trade on Injective from any device, whether that is an iPhone, Android, a tablet, a laptop, or an external monitor. This vastly increases the versatility of the platform and enables users to make trades on the go.
Refactored Market Statistics

Entering a market page will allow users to view comprehensive market details. This includes the following: Last Price, Mark Price, Percent Change, Volume, 24h High, 24h Low, Funding Rate, and Next Funding Countdown. There are many more details which you can see upon entering Solstice V2.
Market Overview Slider

A market overview slider is present in every single market. This shows other markets and their last traded price so that users can easily switch between markets at the click of a button. This creates a much more integrated trading experience.
Final Thoughts
Solstice V2 marks the culmination of both rapid iterations and the meaningful feedback exchanged within the community. Please be sure to try out this new version and share your thoughts.
See you on Solstice V2.
About Injective
Injective is a lightning fast interoperable layer one blockchain optimized for building the premier Web3 finance applications. Injective provides developers with powerful plug-and-play modules for creating unmatched dApps. INJ is the native asset that powers Injective and its rapidly growing ecosystem. Injective is incubated by Binance and is backed by prominent investors such as Jump Crypto, Pantera and Mark Cuban.
Website | Telegram | Discord | Blog | Twitter | Youtube | Facebook | LinkedIn | Reddit | Instagram | Orbit Newsletter