EDIT (December 30, 11 PM EST)
The Trading Competition is Now Live: Link
The first-ever trading competition on Injective is coming up soon with a total prize pool of $20,000 USDT up for grabs. This competition is launching in collaboration with collaborator Binance Smart Chain.
The competition will be held over the course of two weeks from December 30, 2020 at 11:00 PM EST, to January 13, 2021 at 11:00 PM EST. Entrants will also have a chance to win daily prizes.
Background
In November, the initial version of the Solstice testnet was released. Within one week the community managed to compile feedback and released Solstice V2, which included a number of significant upgrades. Both versions were met with universal adulation as thousands of users vied for limited spots to try out the exchange.
Most recently Solstice Pro was released, which brings unrivaled institutional-grade products to the DEX and paves the way for institutional adoption.
This trading competition is the start of the testnet's second phase. In addition, the competition will offer users the first-ever opportunity to competitively trade on the exchange in order to earn prizes.
Here is a quick timeline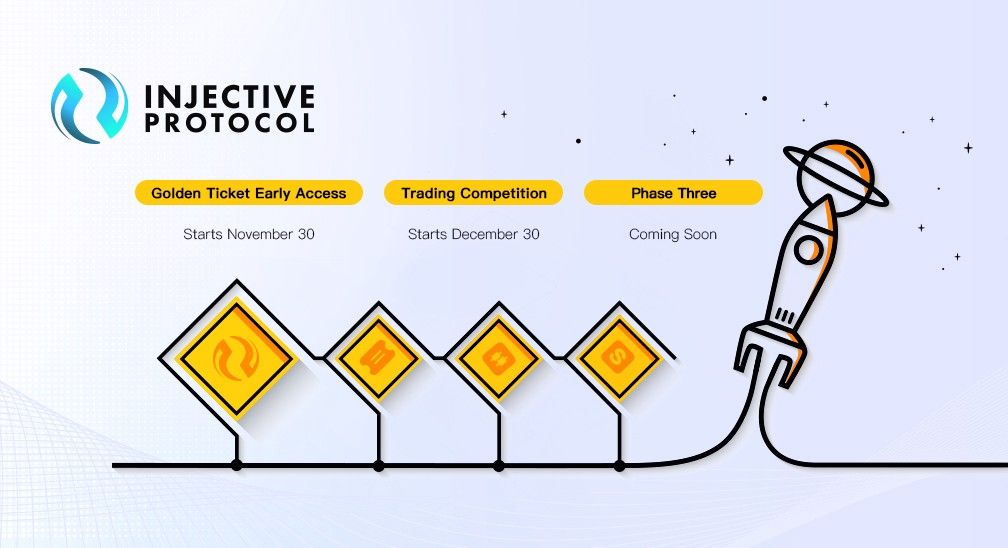 Rewards
Traders can earn rewards through two contests.
Reward Value
There will be $13,000 USDT reward for Overall ROI Contest winners and $7,000 USDT distributed to Daily ROI Contest winners. Further details can be found below.
Overall ROI Contest
This will be determined by your rank among participants. Rankings are based on percent ROI across all pairs. So the higher your average ROI across all trades, the greater your chances of winning.
For example, Trader A with a 300% ROI over the course of ten days will achieve a higher ranking than Trader B with a 200% ROI, even if the total value of assets in Trader B's portfolio is higher.
The rewards structure is as follows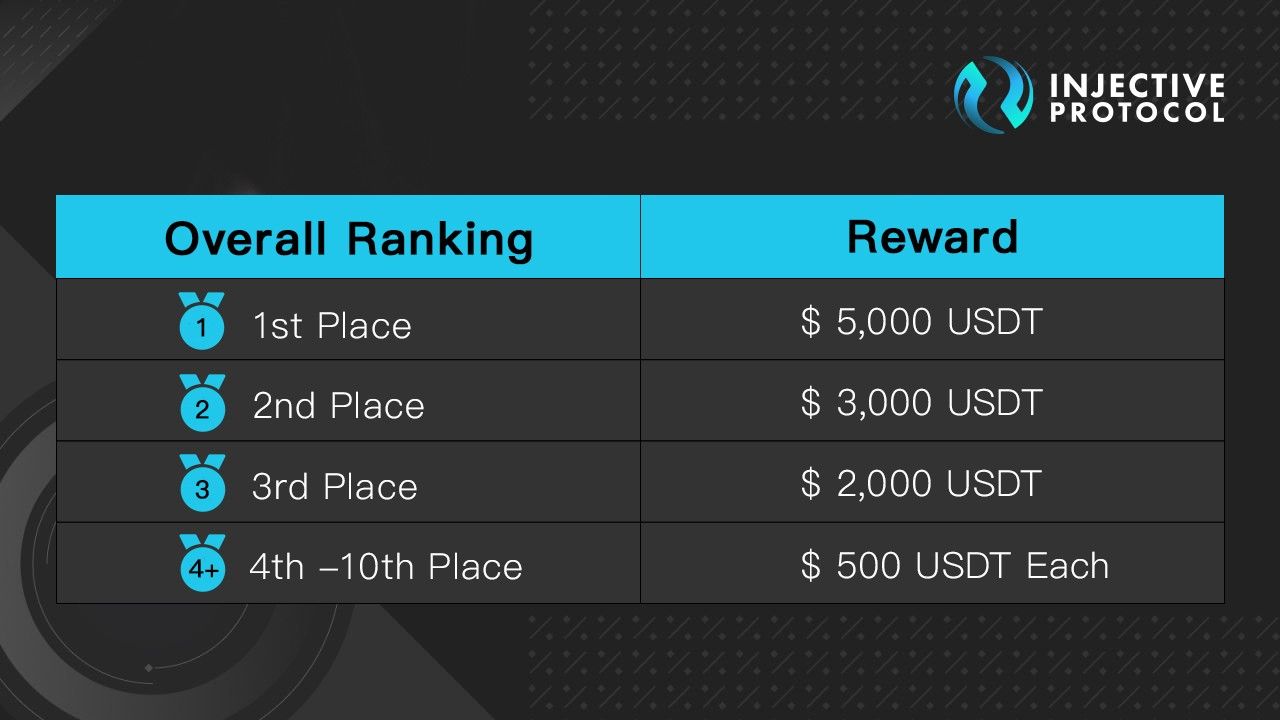 Daily ROI Contest
There will also be a $7,000 reward pool for daily rewards!
This means that there will be $500 distributed to the top Daily ROI winner.
All winners will be announced via the official Injective Twitter account which you can find here.
Note: All users will be given $100,000 USDT in testnet tokens to trade. No real funds need to be used.
Referrals
The community enabled users to gain early access starting next month and provided additional testnet tokens based on the number of referrals. Users who earned referral rewards in the past will see their testnet token rewards reflected in their initial balance.
Users will also be allowed to continue referring up to 20 friends with $1,000 provided in additional testnet tokens for every friend who joins using your code.
These additional funds can help you carry out more diverse trading strategies, which ultimately can help in achieving a higher ROI.
So basically,
More Referrals = More Testnet Tokens = More Ways to Trade = Higher Potential ROI = Higher Chance to Win the Competition
Leaderboard

Traders can now view their rankings on the official Solstice Pro Leaderboard.
The two tabs "Overall ROI" and "Daily ROI" will enable users to track their progress throughout the duration of the competition.
Miscellaneous
Access
Access to Solstice Pro will be restricted starting now. Access will be provided again at the start of the competition.
Initial Balance
All user balances will be $100,000 USDT plus any referral rewards that were earned in the past.
This means any trades you executed in the past will not be taken into account in order to keep the competition fair for everyone.
Closing Remarks
The launch of Solstice Pro is a culmination of the community's commitment to executing and shipping exceptional products. This trading competition will be the initial opportunity for users to truly realize the dynamic nature of Injective.
Next up, the Injective Trading Competition.
Community Resources
About Injective
Injective is a lightning fast interoperable layer one blockchain optimized for building the premier Web3 finance applications. Injective provides developers with powerful plug-and-play modules for creating unmatched dApps. INJ is the native asset that powers Injective and its rapidly growing ecosystem. Injective is incubated by Binance and is backed by prominent investors such as Jump Crypto, Pantera and Mark Cuban.
Website | Telegram | Discord | Blog | Twitter | Youtube | Facebook | LinkedIn | Reddit | Instagram | Orbit Newsletter