Welcome to Injective's November update!
November marked the one-month anniversary of Injective's release on Binance Launchpad. Since then, the community has been working nonstop to refine the DEX, expand collaborations with industry titans, polish the Injective ecosystem growth strategy, and continue to ramp up the Injective family worldwide.
The biggest milestone undoubtedly was the early access launch of the Solstice testnet. This has been received with immense interest, including massive surges in both trading volume and users.
The Solstice release coupled with technical development, major partnerships, exchange listings, and community events led to quite an eventful month for Injective.
November Highlights
1. Solstice Testnet Launch
On November 30th, Injective announced the early access launch of the Solstice testnet.
This release will enable individuals to have the first look at the Injective exchange that from day one has been built to be fully decentralized, fast, and free of any gas fees.
Extremely fast transactions are enabled by Injective's unparalleled layer-2 structure, which eclipses all other decentralized exchanges available today. In addition, the intuitive UI was built to retain the accessibility offered by popular centralized exchanges. As a result, Injective is able to provide everyone with a platform that integrates the best aspects from both the decentralized and centralized exchange ecosystems.
Here is a sneak peek of the exchange UI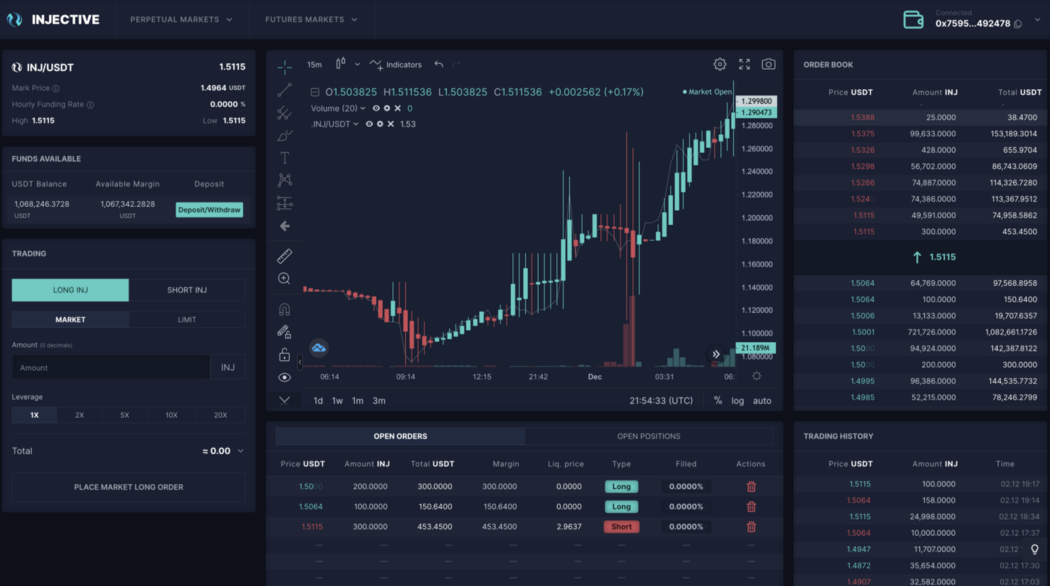 Demand for Solstice has shattered all previous projections with more than 10,000 users already on the waitlist.
In order to onboard users in an orderly fashion, access to Solstice is currently available only via a Golden Ticket. You can find out more about how to get a golden ticket here.
Here is a handy timeline for you to track Solstice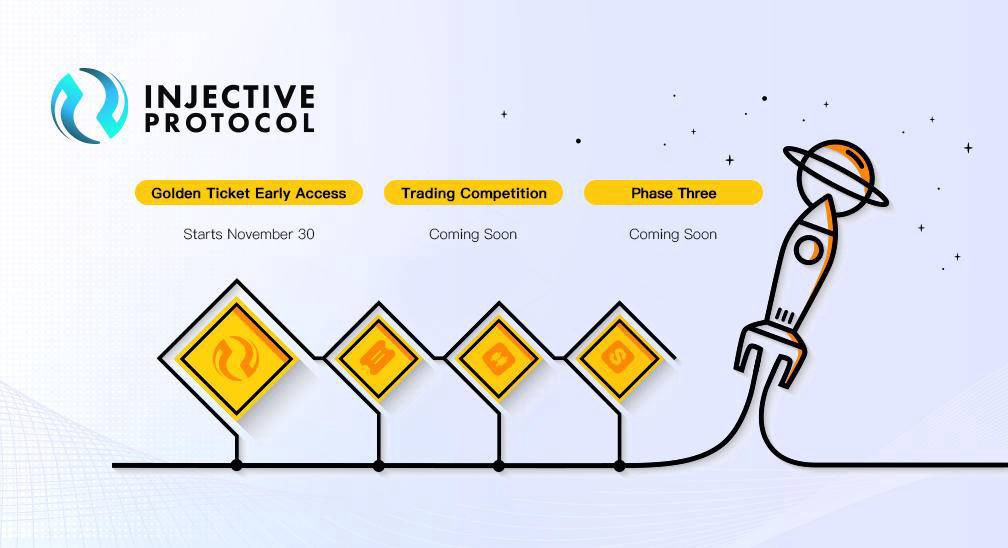 2. Technical Overview of Injective's Token Economy and Ecosystem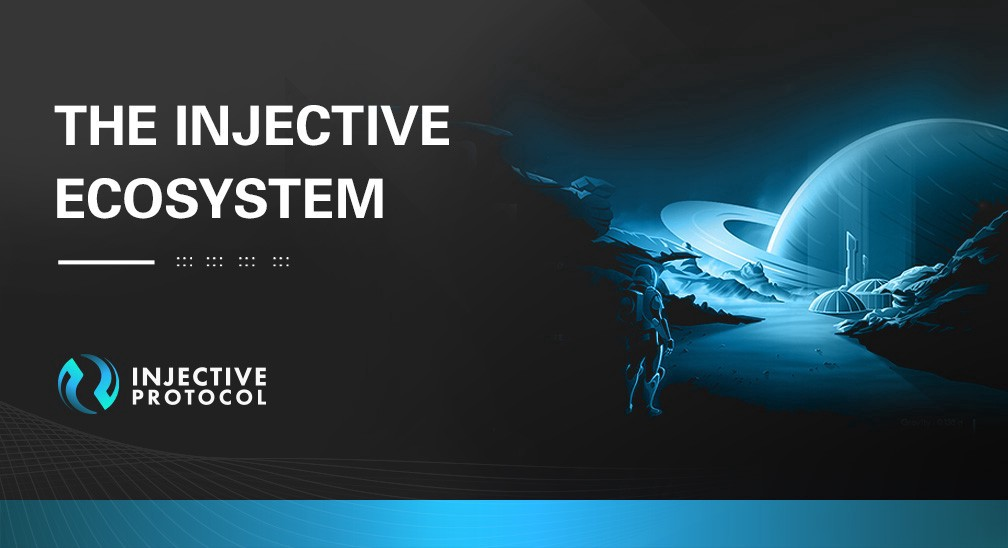 Whether you're a trader, staker, or developer, there are various ways through which you can engage with Injective as well as its first implementation on Solstice. You can read more about this vibrant ecosystem here.
Injective Labs CTO Albert Chon also delved into the Injective token economy in which delved deeper into how INJ would be used. This includes governance, staking, creation of new derivatives markets, and much more!
3. Partnerships & Integrations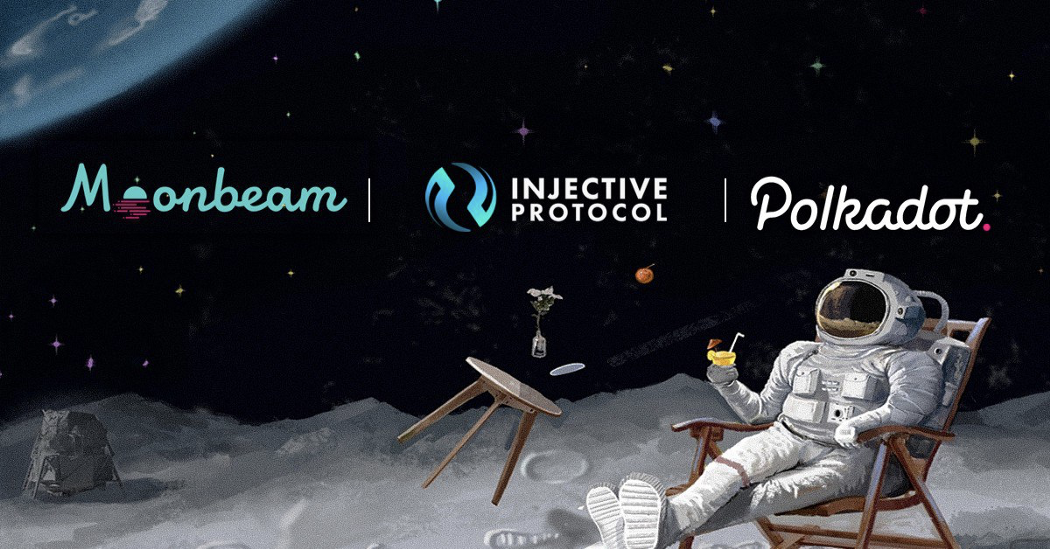 This month saw the addition of some great collaborators. Here is a quick look at some of them.
Injective are integrating with Polkadot to expand Injective's decentralized cross-chain trading capabilities. The plan is to create a bridge that would enable assets from Injective and Polkadot to be transferred between one another. This opens up tremendous potential for various derivatives, such as staking derivatives to be brought to Polkadot.
As an inaugural broker for Orion, Injective plans to be the first liquidity provider of decentralized derivatives on Orion's aggregated book orders. In addition, Injective contributors plan to explore innovative cross-chain and bridge solutions alongside the Orion team.
Injective is integrating six Chainlink price feeds to secure the decentralized derivatives exchange. These price feeds will enable users to create their own decentralized derivatives markets with total assurance that they will be settled by highly reliable and securely delivered data feeds. In addition, Chainlink will now be able to reach new consumers and markets via the Injective DEX.
This collaboration will create a number of new opportunities not only for Injective and Stafi but also for the DeFi community as a whole by introducing new forms of staking derivatives on the Injective DEX moving forward. This also helps to further expand Injective's collaboration with Substrate and Polkadot.
Injective entered into a strategic collaboration with DIA to expand the oracle ecosystem for the DEX. With this collaboration, Injective will enable DIA to tap into a growing community of traders by introducing innovative cross-chain derivatives markets moving forward.
4. New Listings
Injective has conducted a number of major listings over the past few weeks in order to further expand access for INJ. So far, INJ has listed on top exchanges such as Binance, Poloniex, Gate.io, WazirX, Uniswap, and Coinone.
In the coming weeks, more listings will be carried out in order to further grow the ways in which individuals can trade INJ.
5. Community Events
Injective took part in a number of community-building initiatives this month in order to accelerate growth.
Forbes interviewed Injective Labs CEO Eric Chen to gain deeper insights into Injective and his journey thus far.
Fun Times with DeFi Talk with Perpetual Protocol, Pantera, Augur, UMA, and Compound.
Layer One and DeFi Talk with Avalanche, Oasis Labs, and Near Protocol
Injective was invited to participate in Korea Blockchain Week, where Eric Chen spoke about derivatives and DEXeS. It also provides a brief overview of how Injective is looking to rectify salient issues in the exchange sector today.
This AMA took place following the listing of INJ on WazirX.
Injective Labs held an AMA with Elrond to mark the conclusion of a successful staking event with Elrond.
Other Community Events
Injective hosted a staking campaign with Poloniex
Injective was added to Blockfolio Signal (the world's most popular crypto portfolio management app)
Injective was added to Math Wallet (one of the most popular wallets globally)
What's Next
November has been a defining month for Injective with the launch of the Solstice Testnet. There will be even more exciting news in the coming weeks so stay tuned.
About Injective
Injective is a lightning fast interoperable layer one blockchain optimized for building the premier Web3 finance applications. Injective provides developers with powerful plug-and-play modules for creating unmatched dApps. INJ is the native asset that powers Injective and its rapidly growing ecosystem. Injective is incubated by Binance and is backed by prominent investors such as Jump Crypto, Pantera and Mark Cuban.
Website | Telegram | Discord | Blog | Twitter | Youtube | Facebook | LinkedIn | Reddit | Instagram | Orbit Newsletter