Welcome to Injective's monthly update!
This month gave brand new meaning to the term March Madness, and there are more updates to bring you than ever before.
Injective contributors gained notoriety by collaborating with Burnt Banksy on one of the most groundbreaking NFT initiatives in history. This came full circle at the end of the month when Injective launched exclusive Injective NFTs.
Injective officially rolled out Equinox Staking, allowing users to interact directly with the Injective Chain for the very first time. The reaction from the community was amazing with over $20,000,000 staked in less than two days. Along the way, a star-studded cast of genesis validators was debuted.
All of these accomplishments — and more — are bolstered by the rock-solid support of Injective's peerless community. Read below to learn more about these highlights.
March Highlights
1. NFT Collaboration
Injective contributors took part in the now widely acclaimed Burnt Banksy NFT event, in which a group of tech and art enthusiasts banded together to burn an original Banksy print, then recreate and auction it off as an NFT. This collaborative project went viral in mainstream media globally and garnered major discourse across art, tech and finance industries.
The event was covered by a number of news publications, including TechCrunch, CBS, Forbes, CoinDesk, BBC News, CoinTelegraph, The Guardian, Business Insider, Fast Company, Bloomberg, and GQ, to name just a handful.
2. Injective NFTs Launch
In keeping with the momentum surrounding Burnt Banksy, Injective cemented a collaboration with SuperFarm to launch exclusive Injective NFTs.
Users are now able to farm Injective NFTs which will provide them with unique benefits such as increased odds of receiving surprised token drops when staking on Equinox. The community will also explore the creation and trading of NFTs on the Injective Chain which can allow for the creation of NFTs with unparalleled transaction times and zero gas fees given Injective's unique layer-2 structure.
3. Equinox Staking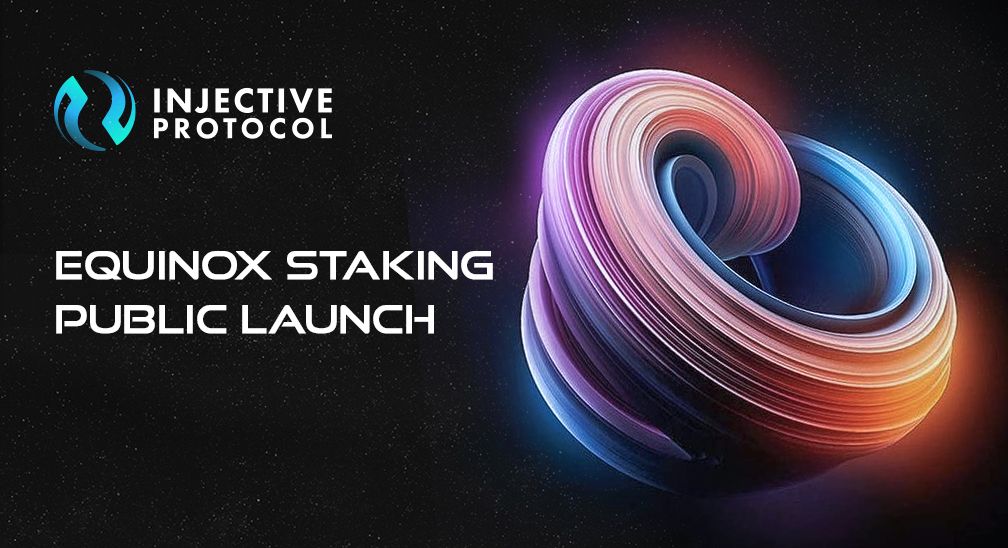 At the beginning of the month, contributors rolled out Equinox Pre-Staking as the first step of the Injective Equinox Staking Competition. Pre-staking enabled users to transfer their ERC-20 INJ tokens into Injective and start earning yield. To further reward the community's patience, the baseline APY was raised to 15%.
This alone was no small feat. Within just two days of launching Equinox Pre-Staking, a mindblowing $20,000,000 had been staked.
On the heels of this remarkable debut, Injective officially launched the highly-anticipated Equinox Staking to the public. This landmark milestone marks the first time that users can interact with the native Injective Chain which offers limitless capabilities such as zero gas fees and rapid transaction times.
Stake Your INJ: Link
Equinox Staking Walkthrough: Link
4. Three New Genesis Validators Join Equinox Staking
Injective onboarded three new genesis validators to Equinox Staking. These validators will serve a crucial role in testing the parameters of the network before mainnet launch, such as reward distribution and network security. Read more about them below.
Figment is one of the world's largest blockchain infrastructure providers with 30+ years of experience providing secure data center, cloud, and software solutions. They have extensive experience supporting networks such as Celo, Flow, and Chainlink.
HashQuark is the largest Asian validator and a part of the HashKey group, a digital asset management company that acts as a major validator for projects such as Polkadot, Klaytn, and Kusama.
Citadel.One is a next-generation non-custodial staking platform that supports a number of major projects including Cosmos and Tezos.
Audit One is a prominent Proof-of-Stake infrastructure provider and validator that boasts an extensive roster of PoS networks and a mastery of Tendermint-based chains.
5. Injective Exchange Upgrade
After closely examining pervasive market challenges in the DEX sector, the Injective community carried out a major upgrade to the order matching mechanism that utilizes a frequent batch auction model.
In doing so, this produced an entirely new exchange model that in addition to sustaining rapid transaction times is able to tighten spreads with higher liquidity closer to the market price.
6. Tendermint Fellowship Welcomes Injective
This month, Injective Labs CTO Albert Chon was awarded with the prestigious Tendermint Foundation Fellowship. The program was founded by Tendermint Inc. in 2020 "as a means of identifying and supporting talent and vision within individuals who are building with Cosmos".
On joining forces with the Tendermint team, Chon stated that he is "excited to push the frontiers of what can be accomplished on self-sovereign, interoperable blockchains."
7. Collaborations & Integrations
This month Injective locked in a number of key collaborations.
Injective linked up with PARSIQ to enable fully automated decentralized trading.
Injective collaborated with Tidal Finance to provide insurance for decentralized derivatives.
Injective joined forces with Cartesi to enable mainstream developer adoption.
Injective formed a relationship with KardiaChain to expand the cross-chain trading universe.
Injective began to explore an integration with Kylin Network to integrate with the Polkadot data economy.
Injective cemented a collaboration Razor Network to expand the oracle system.
Injective brought Big Data Protocol into the ecosystem to launch new data derivative products.
8. Community Initiatives
This month was heavy on community engagement. The official Discord server was given a major facelift, featuring brand new channels devoted to events, educational resources, worldwide communities, and more.
INJ was added to Monolith, the world's first DeFi wallet and accompanying Visa debit card made for spending crypto assets anywhere.
A number of AMAs were hosted with prominent projects building in the space.
The Polkadot Ecosystem: Moonbeam, Acala, Parity, and Injective (Link)
Ethereum Scaling Solutions: DeFi, Layer-2, and Ethereum (Polygon and Injective Protocol): Link
DEX and Layer-1: Conflux, Fantom and Injective (Link)
Injective contributors participated in an AMA with Staking Hub, at Polka DeFiance Conference, Chainlink Spring 2021 Hackathon, and Korean DeFi Roadshow 2021.
A group of Injective supporters took it upon themselves to build Injective Universe, a community-run website dedicated to Injective news and accomplishments.
Stay tuned for more exciting updates from the Injective family in the coming months.
About Injective
Injective is a lightning fast interoperable layer one blockchain optimized for building the premier Web3 finance applications. Injective provides developers with powerful plug-and-play modules for creating unmatched dApps. INJ is the native asset that powers Injective and its rapidly growing ecosystem. Injective is incubated by Binance and is backed by prominent investors such as Jump Crypto, Pantera and Mark Cuban.
Website | Telegram | Discord | Blog | Twitter | Youtube | Facebook | LinkedIn | Reddit | Instagram | Orbit Newsletter