The growth of the worldwide Injective family has played an integral role in the project's journey thus far. Injective just launched early access to the Solstice Testnet (Link) which will enable supporters to get their first look at the Injective DEX.
As a show of appreciation, Injective's Golden Ticket Early Access is now available to all users. This will allow users to gain exclusive early access to Solstice while also providing new avenues to earn rewards before the start of the trading competition.
What does Golden Ticket Early Access mean?
During this period, Solstice will be accessible via invites only. This means individuals will only be able to access the testnet via unique referral links.
Securing a Golden Ticket will provide users with early access to Solstice while also offering an additional $5,000 in testnet tokens.
Moreover, gaining early access will allow users to generate their own referral links as well. Every time a friend joins with your referral link, both you and your friend will earn $5,000 in testnet tokens. You may refer up to 5 friends which would give you a total of $25,000 in testnet tokens. This referral limit may be increased in the near future.
Earning additional testnet tokens will also increase your odds of winning from the $25,000 USDT trading competition prize pool.
So in summary…
Golden Ticket = Early Access + Free Testnet Tokens + Referral Bonus
How can I get a Golden Ticket?
There will be multiple avenues to get your hands on a Golden Ticket.
Referral links with Golden Tickets will be shared across various official Injective social channels. There will be a daily cap so only a limited number of users will be able to access the testnet every day. There will be a countdown timer on the website so that you can track when the next batch of users can try out Solstice (this timer will be reset every day).
The best way to keep an eye out for Golden Tickets is to subscribe to Injective's official social channels and to tune into AMAs.
Is there anything else I should know?
Solstice will consist of three phases.
Here is a quick timeline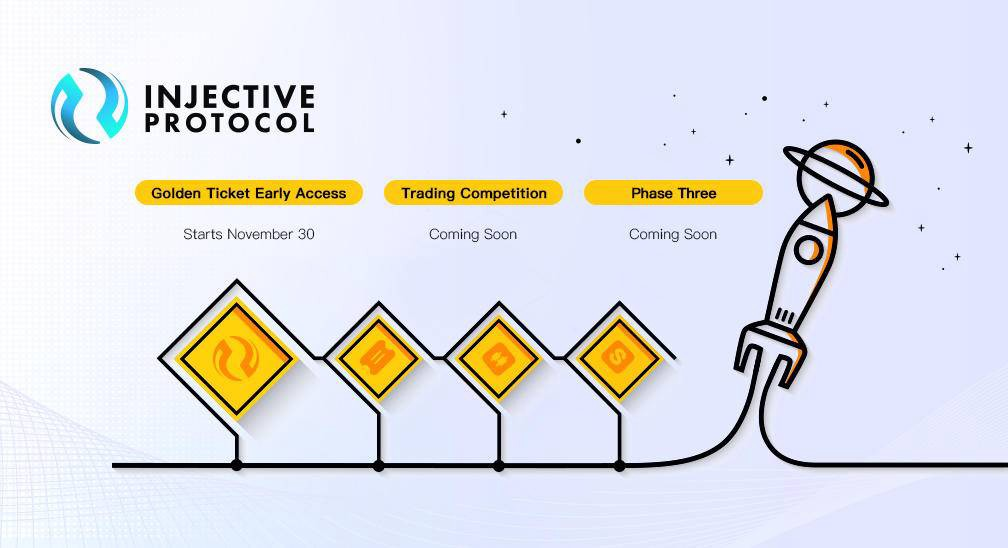 See all of you on the #SolsticeTestnet!
About Injective
Injective is a lightning fast interoperable layer one blockchain optimized for building the premier Web3 finance applications. Injective provides developers with powerful plug-and-play modules for creating unmatched dApps. INJ is the native asset that powers Injective and its rapidly growing ecosystem. Injective is incubated by Binance and is backed by prominent investors such as Jump Crypto, Pantera and Mark Cuban.
Website | Telegram | Discord | Blog | Twitter | Youtube | Facebook | LinkedIn | Reddit | Instagram | Orbit Newsletter