Injective today is releasing its largest tokenomics upgrade yet which can dramatically increase the amount of INJ burned weekly.
Now all dApps built on Injective can contribute to the INJ burn auction with no limit to how much of their fees they wish to burn. In turn, this can lead to a far more robust on-chain economy powered by INJ as burn auctions can now capture value from all dApps across the rapidly growing Injective ecosystem.
Background
Injective pioneered innovative burn auctions with the launch of its mainnet.
The Injective Token Burn Auction is a highly unique mechanism that collects protocol fees and turns them into collective protocol value. In its original inception, the Token Burn Auction auctioned off 60% of all fees collected on exchange dApps built on Injective, and subsequently burned the tokens used to pay for the auction basket.
During the weekly burn event, every exchange dApp directed 60% of its transaction fees into an auction basket, offering community members an opportunity to compete for the complete winnings of that week through their bids. The payments made for the auction basket were promptly burned once the auction ended, decreasing the overall token supply.
This innovative approach effectively transformed transaction fees into a community-driven incentive, bolstering user engagement and participation, as it benefited both the winning participant and Injective community members. To date over 5.7 Million INJ has been burned forever with the help of this prior burn auction model.
The New INJ Burn 2.0 Mechanism
Since the launch of its mainnet, Injective has transformed itself into a global powerhouse. Injective is now the fastest L1 blockchain, catering to a wide array of dApps that extend far beyond merely exchanges. Protocols focused on DeFi, lending, options, NFTs, gaming and social finance have all found a home on Injective. As a result, it became evident that as the ecosystem on Injective evolves so too should the token burn mechanism.
The upgrade to INJ 2.0 aims to enable any dApp on Injective to contribute to burn auctions, therefore extending the benefits of the token burn mechanism to a wider array of protocols.
Under this upgraded system, a diverse range of dApps, spanning lending platforms, NFT marketplaces, prediction applications, and beyond, can opt to contribute to the auction burn. In addition, all protocols have the option to allocate the amount they would like to contribute to the auction, even allocating up to 100% of their collected fees to the auction basket.
The developer documents for Injective have also been revamped to include instructions on exactly how any new dApp building on Injective can directly contribute to the auction basket. The complete details can be found here.
This monumental upgrade holds considerable promise for the Injective community as a whole. By enabling a broader spectrum of use cases to be integrated into the buy-back-and-burn mechanism, the platform unlocks a new level of utility for the native INJ token. The increased participation from various dApps not only amplifies the potential rewards available for auction but also allows for larger amounts of INJ tokens to be burned.
INJ: The Asset Powering a New World Economy
The new INJ Burn 2.0 upgrade represents more than just a technical enhancement; it embodies Injective's commitment to fostering a thriving and interconnected ecosystem for all Web3 applications. This dynamic expansion encourages collaboration, innovation, and collective growth, firmly rooted in the principle of empowering the community.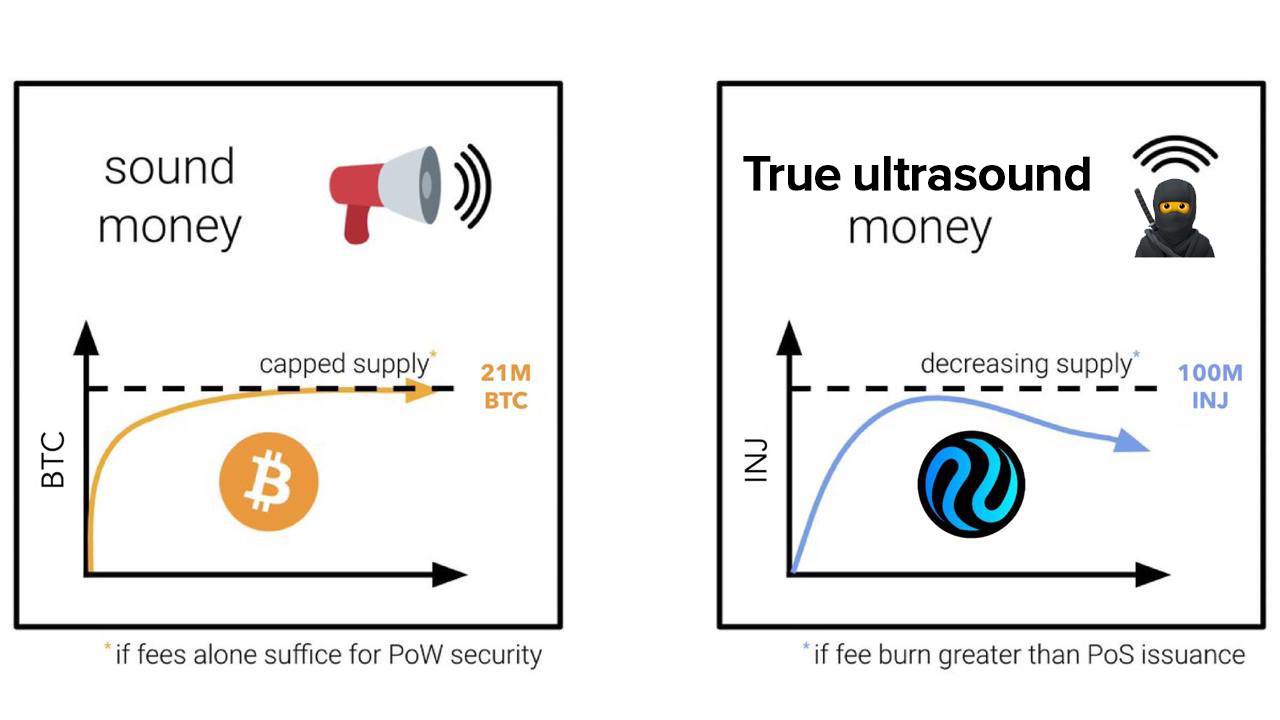 INJ 2.0 marks a significant milestone in the evolution of finance. The advent of the current crypto industry with the launch of Bitcoin introduced us to the idea of real sound digital money. The Injective ecosystem takes this one step further by creating an entirely new system that allows for the creation of true ultrasound money: INJ.
By embracing a more inclusive and adaptable approach, Injective empowers a diverse array of dApps to contribute to the auction burn, amplifying both community engagement and a more robust economic system altogether. This transformation reflects the Injective's unwavering dedication to building a robust and collaborative ecosystem that continues to push the boundaries of possibility.
About Injective
Injective is a lightning fast interoperable layer one blockchain optimized for building the premier Web3 finance applications. Injective provides developers with powerful plug-and-play modules for creating unmatched dApps. INJ is the native asset that powers Injective and its rapidly growing ecosystem. Injective is incubated by Binance and is backed by prominent investors such as Jump Crypto, Pantera and Mark Cuban.
Website | Telegram | Discord | Blog | Twitter | Youtube | Facebook | LinkedIn | Reddit | Instagram | Orbit Newsletter