Apollo Safe has launched on the Injective mainnet, bringing an innovative smart contract enabled multisig protocol into the ecosystem for the first time.
Builders and projects on Injective can now utilize Apollo Safe to create multisig wallets on Injective via a frontend to manage funds and transactions, improving the asset security and management for all. In turn, this can allow both institutions and sophisticated users to bring more capital into the Injective ecosystem.

What is Apollo Safe?
Apollo Safe is a multisig protocol powered by CosmWasm smart contracts.
Multisig wallets are vital to the growth of decentralized ecosystems because they allow multiple parties to be the signers on one wallet. Multisig wallets are commonly used by large institutions and sophisticated users in order to protect large amounts of capital. Put simply, having a multisig wallet can allow you to safeguard your funds from malicious attacks since even if one person is compromised, the remaining parties can work together to retrieve wallet funds.
Effectively, anyone can utilize the Apollo Safe frontend to easily create a multisig wallet. This makes asset security and management far more effective and allows non-technical users to manage multisig wallets on Injective.
Apollo Safe Brings Accessibility and Security to Injective Builders
Apollo Safe will provide a plethora of key benefits to the Injective ecosystem by making it easier for DAOs, funds, and a range of other crypto participants to more securely and easily manage funds.
"We are thrilled to be launching Apollo Safe on Injective, an exciting and rapidly growing L1 in the Cosmos ecosystem. By deploying Apollo Safe on Injective, our aim is to further help increase adoption of the ecosystem, by helping new projects to launch and increasing innovation for Injective and its community at large," said Apollo DAO co-Founder Bruce.

An easy-to-use multisig wallet is crucial for any crypto ecosystem. It will reduce the barriers for builders to deploy dApps on Injective. This will create more opportunities for developers to create innovative new applications that can take advantage of the unique financial modules available on Injective.
"By increasing accessibility for DAOs and builders, tools such as Apollo Safe can help accelerate Injective ecosystem growth. As more users adopt Apollo Safe, we can begin to see higher capital inflows and new opportunities for collaboration," said Injective Labs co-founder and CEO Eric Chen.
Getting Started on Apollo Safe

To get your multisig wallet today, head to https://safe.apollo.farm/ and choose Injective. You can either create a new multisig wallet, or add to an existing multisig wallet by entering the CW3 address and name.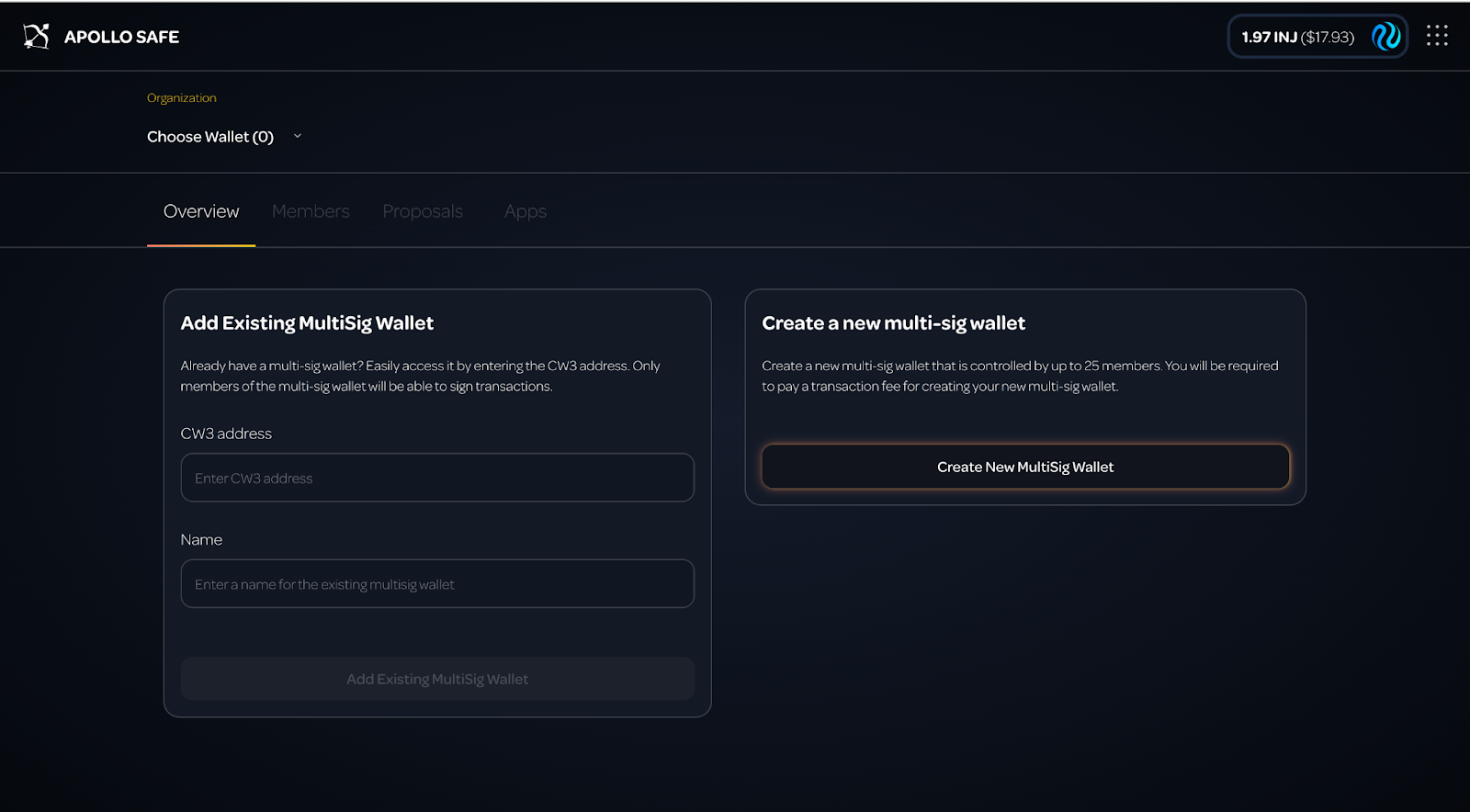 To have Apollo Safe natively built on Injective represents a key development for the Injective ecosystem. It increases accessibility for builders, improves security, and encourages continued growth. With Apollo Safe, Injective is set to become an even more vibrant L1 blockchain that empowers more innovative and groundbreaking applications.

About Injective
Injective is a lightning fast interoperable layer one blockchain optimized for building the premier Web3 finance applications. Injective provides developers with powerful plug-and-play modules for creating unmatched dApps. INJ is the native asset that powers Injective and its rapidly growing ecosystem. Injective is incubated by Binance and is backed by prominent investors such as Jump Crypto, Pantera and Mark Cuban.
Website | Telegram | Discord | Blog | Twitter | Youtube | Facebook | LinkedIn | Reddit | Instagram | Orbit Newsletter
About Apollo DAO
Apollo DAO is a collective of CosmWasm developers and DeFi natives that came together to focus on building DAO tooling and asset management platforms for the Cosmos ecosystem, including Apollo Safe, Apollo Pay and Apollo Router.