Decentralized Cosmos (ATOM) Perpetual Futures Listing on Injective Pro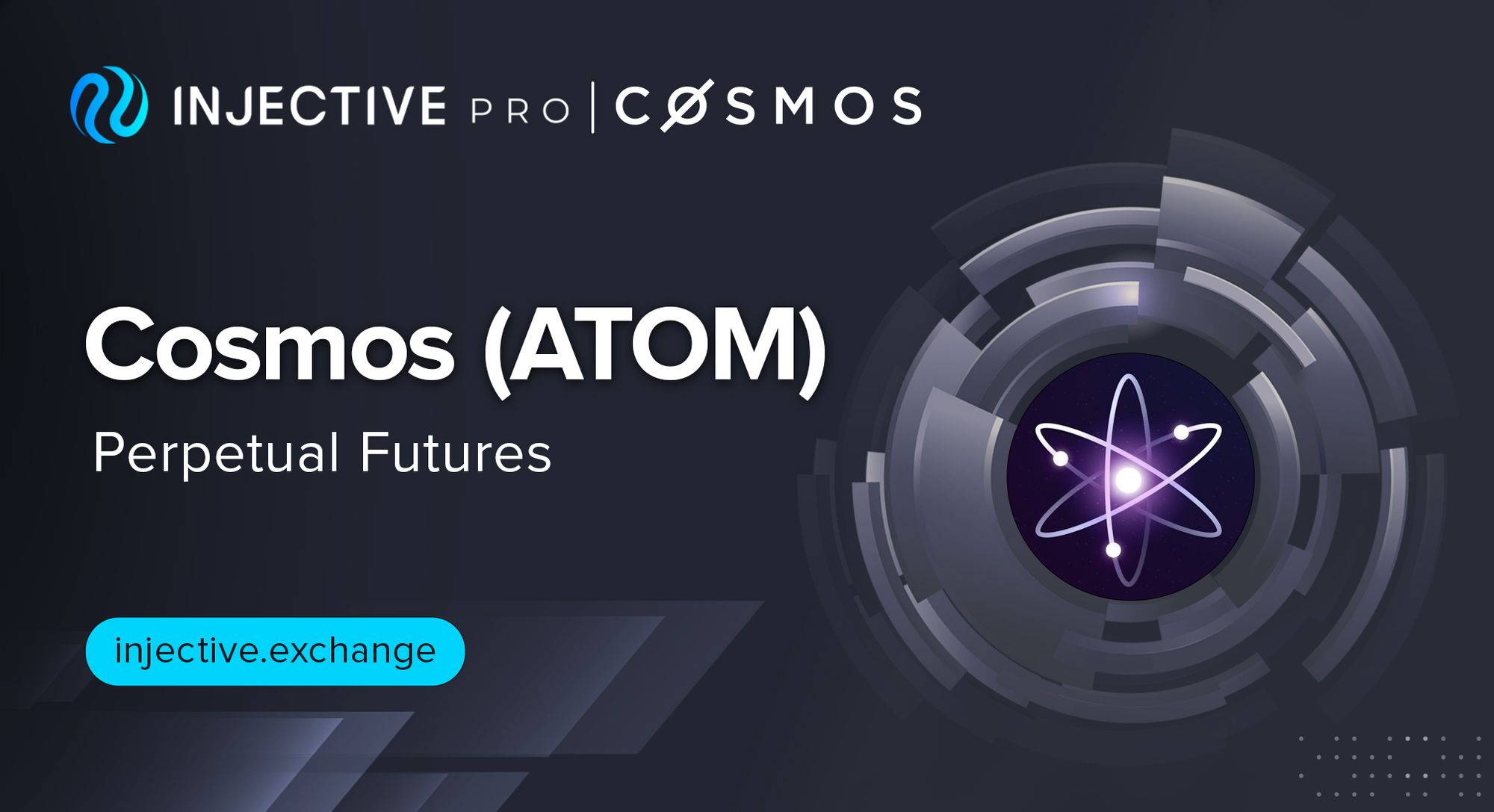 It's the moment you Cosmonauts have been waiting for all along: ATOM Perpetual Futures are now listed on Injective Pro!
You can now trade ATOM with leverage on an entirely decentralized orderbook with zero gas fees.
Start Trading: Link
Time: February 9, 2022 at (15:00 UTC)
Trading Pair: ATOM/USDT PERP
Benefits of Trading on Injective
Long and short ATOM with 10X leverage
Decentralized orderbook (all of the pro functionalities of a CEX with none of the drawbacks)
Lightning Fast Speeds
Earn trading fee discounts through VIP tiers
Zero Gas Fees
Zero frontrunning
Zero MEV
Earn rewards with every trade
Own part of the exchange and determine its future via governance
Interact with the world of Cosmos IBC
If you have any questions please let us know on Discord.
Happy Trading nINJas!
About Cosmos (ATOM)
Cosmos is an interoperable blockchain that helps to create an Internet of Blockchains. Cosmos is powered by Tendermint-based Proof-of-Stake Consensus and is the core builder behind the IBC Protocol (a protocol that helps to connect sovereign blockchains such as Terra and Injective). ATOM is the native Cosmos asset used for governance, staking, transaction fees and much more on Cosmos.
New Listings
One of the most common requests we receive from users is listing new assets on Injective Pro. We encourage all community members to propose new listings via Injective governance. Ultimately, all INJ token holders own Injective so the community has the power to list assets on exchanges built on Injective.
Stay updated on all new listings by joining us on Discord, Twitter and Telegram.
Additional Resources
About Injective
Injective is a custom interoperable layer one protocol for building powerful exchange, DeFi, derivatives & Web3 applications. Injective was created using the Cosmos SDK and is able to achieve instant transaction finality while sustaining lightning fast speeds. INJ is the native deflationary scarce asset that powers the Injective Protocol and its rapidly growing ecosystem. Injective is incubated by Binance and is backed by Pantera Capital.
Website | Telegram | Discord | Blog | Twitter | Learn | Youtube | Facebook | LinkedIn | Reddit | Instagram | Weibo | Orbit Newsletter